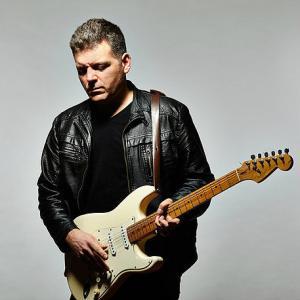 Ace guitar slinger, Chris Antonik, has been described as "a cross between BB King and Eric Clapton." High praise indeed for a man on the verge of releasing his third studio album. Truth be told, the Toronto-based bluesman is, indeed, a rising star. With a triple threat of superb guitar skills, commanding vocals, and sincere, thought-provoking songwriting abilities, he is surely on the short list of artists that are the future of the blues
Antonik's eponymous debut album saw him nominated as Best New Artist via Canada's Maple Blues Awards. His sophomore project, Better For You, was hailed as a "masterpiece." Today, his third album, Monarch, hits the streets, completing a trilogy of personal self-expression.
"This one is pretty heavy," Antonik told us in a recent interview. "The first two albums I did were a little more light-hearted. I was just getting my bearings, and trying to get myself on the map as a blues player. I wasn't even singing everything, whereas I sing everything now."
When we asked what made Monarch so different, he replied, "The first two albums instead of, 'my baby left me, and my life sucks', I wanted to ask how can I be a better person to those around me? With this one, four years have passed, I've gone through a lot of personal stuff. I've recently gone through a divorce. It's ok now, but going through that while trying to finish the record was quite challenging. This album was kind of closing a chapter in my life. This is a pretty dark record, but it's real."
Antonik continued, "It's what my life has been for the last three years. You have to go through the shit sometimes. Well, I'm through it, and looking forward to a new chapter in my life. This record needed to be dark. If it wasn't dark, and raw, then I think it would have been insincere. Learning how to forgive, learning how to let go, learning how to move on, these are the type of things on this record."
"I tried not to divulge too much private information," Chris says. "But I wanted to create songs that people could relate to. I let go when I wrote the songs. I had my catharsis. But other people needed to relate to the songs as well. I couldn't just sit and focus on my ego for a year in the studio. It comes from a personal place, but I'm trying to create powerful themes that are universal."
Speaking more about the making of Monarch, Antonik shared, "I didn't want to go in the studio and do another live off the floor blues record. A lot of people have to do that because the industry demands that you keep churning out product. I don't like that pressure. I view the recording process as making a movie, or maybe even a Pink Floyd album. I like to take my time, hash stuff out, and try new things. I don't just go in with a trio and knock out ten songs. I save that for the stage."
One thing that we noticed, while listening to Monarch, was that several songs begin with an attention-grabbing drum beat, then the layering in of other instruments. "I'm glad you say that," Chris said. "One of the things I really wanted to do on this record, was to put another thing on this album that is universally, undeniably magnetic. That thing is rhythm. It's not about the solos. Lyrics are nice, and people can get off on different parts of the jams, solos, and grooves. I really wanted to approach this project with drumming, in a very special way. So I hired Chuck Keeping (Big Wreck, Jeff Healey, Prince), who is a renown blues drummer in Canada. I would go to his house, and we would listen to some old blues, and soul, even some hip-hop. We spent weeks just having drumming meetings. He would also send me stuff from his phone. One day, I got a text from him and it was the drum beats you hear on 'I'd Burn it All Down (For You).' I called him back and said, 'That's a song. I'm making this a song'. So in the studio, we're actually emulating an iPhone demo."
"Rhythm is important," Antonik went on to say. "When I was in high school in the late 80s and early 90s, I listened to a lot of hip-hop. A couple years later when I picked up a guitar and got into the blues, I realized that hip-hop was sampling Albert King, Freddie King, and other blues greats. That's where my attack comes from."
So putting Monarch in a nutshell, Chris explains, "What I really wanted to do on this record, besides telling my personal story, was to go back to my roots. As a guitarist, I'm really, really keen on rhythm. I wanted to get that funkiness out there. It was important to have Chuck on those drums. But also Guenther Kapelle (Wild T & The Spirit) on bass, and Jesse O'Brien (Colin James, King Biscuit Boy) on keyboards. I can write the songs, but I need a strong team around me to really throw it overboard."
Antonik began his journey to the blues via classic rock. He told us that Carlos Santana and Neil Young taught him that you could tell a story with your guitar playing. From there he discovered Clapton via The Bluesbreakers and thought he had reached the pinnacle. "But then," he says, "you keep drilling down where you discover Buddy Guy, Albert King, and Freddie."
About those aforementioned comparisons to his guitar work, Chris Antonik says, "It's definitely humbling, and I'm honored by the comparisons, but c'mon now. There's only one Eric Clapton."
Monarch drops today and can be found on CD, and digital download, everywhere. From our position, folks would be doing themselves a disservice by not purchasing this self-release. Antonik is also gearing up for a tour that begins on April 18th, in Hamilton, Ontario. His upcoming appearances also include several stops throughout Canada, and in the US at venues that include the BBQ Bikes & Blues Festival in Elizabethtown, Kentucky, and Buddy Guy's Legends in Chicago.