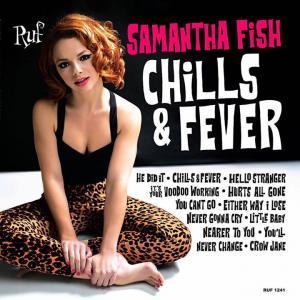 The upcoming album from Samantha Fish, Chills & Fever, is a nod to her early rock, soul, and blues influences. The album is scheduled for release on March 17th, via Ruf Records. A collection of 14 cover songs, it takes her fans on new journey.
Chills & Fever was recorded, with vintage gear, in Detroit, at The 45 Factory and produced by Bobby Harlow. Harlow is a garage rock veteran member of The Go, and turned Fish on to some of the more obscure songs we found on this offering. From the opening track, "He Did It," (The Detroit Cobras), to a great, rocking version of Lulu's 1964, "I'll Come Running Over," we find Fish at her best, to date.
On her fourth studio album, Samantha Fish digs deep into the record vaults. There she finds songs by the likes of Nina Simone, Betty Harris, and Ronnie Love. Intentionally choosing songs, that perhaps, many haven't heard before, she struck pure gold. It doesn't stop there. In order to pay true tribute, she brought in members of the Detroit Cobras, including Joe Mazzola. New Orleans horn players, Mark Levron (trumpet) and Travis Blotsky (saxophone), added to the "soulful vibe," she was looking for.
Focusing more on vocals than her well known axe-slinging, Fish is spot on with her covers of Barbara Lewis', "Hello Stranger," and Nina Simone's, "Either Way I Lose." Always a powerful instrument, her vocals hit home, hard, in opening, "Somebody's Always Trying." Dare we say she outdid Ted Taylor himself? You're damn right we do. For those who love her for the rockin' blues sound she established early on, fear not. Fish' distorted, grungy guitar on the classic, "Crow Jane," breathes new life into the nearly century old tune.
For fans of a certain age, Chills & Fever, is a wonderful trip back in time. Her restate of the vintage soul, rock 'n' roll, and blues sounds on which we grew up is as comfortable as our favorite jeans. For younger listeners, and new fans, it's your chance, at some point, to hear an oldies record and say, "Wow, listen to this old version of Samantha Fish' song."
Artist: Samantha Fish
Album: Chills & Fever
Label: Ruf Records
Running Time: 54:14
Release Date: March 17th, 2017