Following a "surprise" performance by Morgan Wallen at Grand Ole Opry last weekend, the Nashville institution is receiving backlash. Wallen joined country singer Ernest on stage to perform their song "Flower Shops."
Wallen came under fire back in February of last year when footage surfaced of him using the N-word. He then insisted that the hateful word was uttered because he was "dumb" and drunk. He was dropped by radio stations and temporarily suspended from his record label, before he was also banned from the CMA Music Awards. And yet, sales of his most recently released album secured a number one slot on the Billboard 200 Albums Chart for 10 weeks.
Black country artists and their allies are now asking the Opry for accountability. Jason Isbell tweeting, "Last night Opry you had a choice: either upset one guy and his 'team,' or break the hearts of a legion of aspiring Black country artists. You chose wrong and I'm real sad for a lot of my friends today. Not surprised though. Just sad."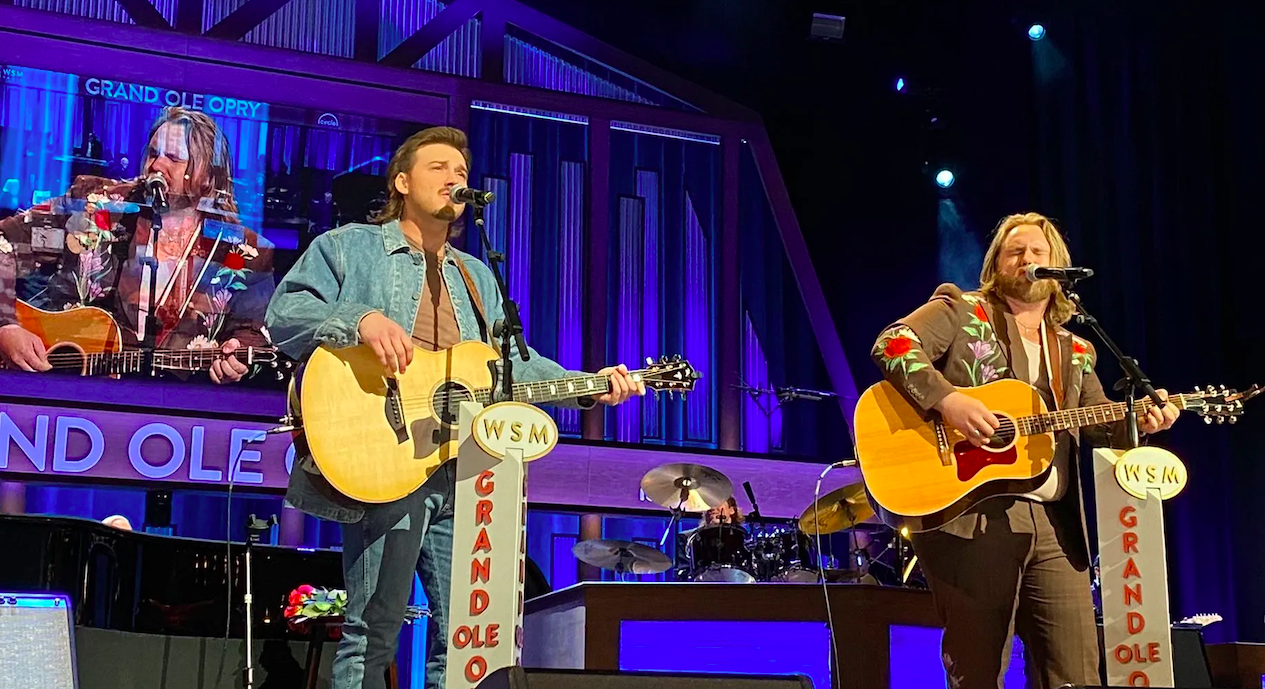 Isbell later added, "The thing that really upsets me is bigger than one person's words. It's the idea of a young Black artist walking into that venue and wondering if ANYBODY is on their side. What a lot of us consider to be a grand ole honour can be terrifying for some. Doesn't have to be that way."
Country artist and Color Me Country Radio host Rissi Palmer urged, "I believe now is the time to watch and move. Watch how people are responding and reacting and move accordingly. Systems only work when we continue to participate in them. The moment we stop and divest, they lose their power…"
In its nearly 100-year history, the Grand Ole Opry has only officially invited two Black artists, the beloved Charley Pride and Darius Rucker, to be regular members. 
In June of 2020, the Opry made this statement: 
Racism is real. It is unacceptable. And it has no place at The Grand Ole Opry. 
Just days ago the Opry Tweeted, "On January 7, 1967, Charley Pride made his Grand Ole Opry debut. He was the first black solo singer to perform on the Opry. Pride sang 'The Snakes that Crawl At Night' and 'I Can't Help It (If I'm Still In Love With You).' We love and miss you, Charley." 
And now we have Morgan Wallen — not a member but a surprise guest, who thinks racial slurs are not racist when used "playfully" — stepping out on that historic stage one day after Pride's debut anniversary celebration. 
Black Opry founder Holly G. penned an open letter to Opry bosses Gina Keltner and Dan Rogers that took them to task: "It felt like a slap in the face to see you all celebrate Charley Pride, only to pull this stunt 24 hours later. You should know that our community is extremely disappointed, though many are not surprised. "A stage that was once a dream destination for many Black artists has now cemented itself as one of the many Nashville stages on which we know we are not respected."
The letter follows a meeting Holly had with Gina in which they discussed "pursuing efforts towards creating a safer environment for Black fans and artists and being more inclusive."