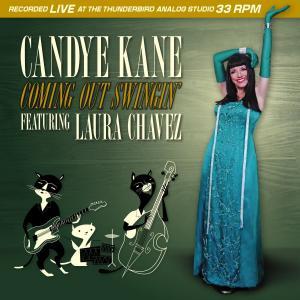 Candye Kane has never been one to shy away from a fight, whether it's been addiction(s), raising two sons, or beating cancer. With this kind of drive and determination, it is no wonder that she has built a successful career with her music. She has been nominated for for several Blues Music Awards, including BB King Entertainer of the Year (twice), Best Contemporary Blues Female (twice), and Best Contemporary Blues CD (Superhero).
Coming Out Swingin' is her third release with guitarist and songwriting partner, Laura Chavez. Released on the Sister Cynic/Vizztone label, the album's 13 tracks clock in at just under 44 minutes. Personnel on this album are: Laura Chavez – guitar, Kennan Shaw and Thomas Yearsley – bass, Fred Rautmann – drums, Leo Dumbecki – organ, and Billy Watson on harp. Providing some fine horn playing are Bill Caballero – trumpet, April West – trombone, and Jonny Vaiu on sax. Tickling the ivories is Sue Palmer, and of course, Candye Kane provides the vocals. Production values are good, and the mix is excellent, letting everything speak in just the right voice, and at the right depth.
If you like swing and jump style blues, you will love this album. The musicianship here is first rate, as are Kane's vocals. Standout tracks include the title track, which is a whole lot of swing infused fun, and "I'm The Reason You Drink," with Kane's great vocal and tasteful soloing from Laura Chavez. Kane's vocal on "Invisible Woman" is a cross between Peggy Lee and Etta James; delightfully smooth and smokey. We also enjoyed the slow and soulful "What Love Can Do," and the horn and piano driven, playful cabaret stylings of "Au Revoir Y'all."
If you crave something that is fun, but really good music, this is for you. This album is well written, well produced, and well played. Give it a go soon.