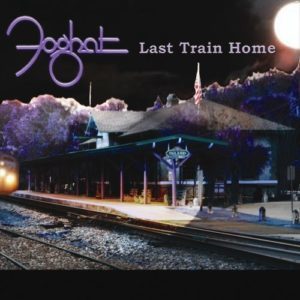 When you think of Foghat, most likely you'll be thinking of the monster radio hits such as "Slow Ride," and "Fool For The City" but let's not forget where this band came from. They have always been deeply rooted in the blues, originating of course with the threesome of late Guitarist "Lonesome" Dave Peverett, ex-bassist Tony Stevens and original drummer Roger Earl's tour of duty with the British blues band Savoy Brown.
If you haven't listened to these guys for a while you are in for a treat. Their latest offering is called Last Train Home and it one kick-ass CD! They play a hopped style of high-octane blues and I dare you to not move while listening to this.
They explode out of the gate with "Born For The Road" and they never really let off the throttle. I think they also do a terrific job translating their versions of some classic tunes like Elmore James "Shake Your Money Maker" and "Louisiana Blues" by Muddy Waters. Also included is a brilliant remake of Willie Dixon's "Rollin' & Tumblin'/You Need Love".
Now something for the hardcore blues buffs, Eddie "Bluesman" Kirkland plays a big role in the final two songs, "In My Dreams" and "Good Good Day." At 87 he is still touring, so you know he was undoubtedly "Born For The Road" and by the way he is no stranger to Foghat. He became friends with the band in the mid 70's and they appeared together on Don Kirchner's Rock Concert along with Muddy Waters and Honeyboy Edwards. [Update: Just three short months after the time of this writing, Eddie Kirkland was tragically killed in a car accident]
This is somewhere around their 20th release but that doesn't take into account the numerous compilations and greatest hits albums. It seems the solid blues foundation has been a key to the longevity of this band. Currently "Last Train Home" is sitting in the seventh position for Internet radio airplay, according to Roots Music Report. So it would appear that I am not alone when I say this is one of the best releases of 2010. We will have a full interview with the band in the next few weeks so keep checking back. In the meantime if you don't have this CD in your collection yet, I'd say now is a pretty good time!
Track Listing
01. Born for the Road
02. Needle & Spoon
03. So Many Roads, So Many Trains
04. Last Train Home
05. Shake Your Money Maker
06. It Hurts Me Too
07. Feel So Bad
08. Louisiana Blues
09. 495 Boogie
10. Rollin' & Tumblin' / You Need Love
11. In My Dreams
12. Good Good Day
By Glen Casebeer/Northwest Music Scene
You can find the American Blues Scene at:
American Blues Scene website
Facebook
Twitter
Last FM
Myspace
YouTube
ReverbNation
Live Blues World

You can find the Northwest Music Scene at:
Facebook
Twitter
Myspace
Youtube
Reverbnation