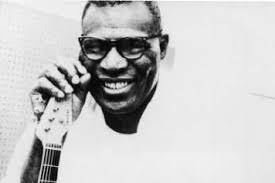 Gina Berrett is on a mission. She is focused and determined, and blues and rock and roll fans everywhere should be glad for this. Her mission is to bring her baby, the Howlin' Wolf documentary Smokestack Lightning: The Legendary Howlin' Wolf, to fruition. This has been a labor of love that Berrett has nurtured and worked on for years.
The film was started in 1999 by 2 professors. Berrett became involved in 2001 to assist, and she traveled throughout MS, Memphis, and Chicago. The team interviewed Hubert Sumlin, Sam Phillips, David "Honeyboy" Edwards, Detroit Jr, Koko Taylor, Bobby Rush, Alvin Youngblood Hart, Taj Mahal, Jody Williams, Abb Locke (Wolf's sax player for years), Sam Lay, and a host of others. A lot of time was spent in Wolf's hometown of West Point, MS, doing research and meeting Wolf's relatives and friends. The team attended several years of the Howlin' Wolf Memorial Blues Festival in West Point, MS.
Over the course of the making and production of this documentary, there have been delays and setbacks. Berrett's co-producer had to leave the project two years ago, and she has carried on herself in an attempt to complete the film. There were also the somewhat publicized difficulties with Dan Auerbach and the subsequent lawsuit.
The film is in post production and should be completed this summer. Currently, an IndieGoGo campaign is underway and will be over March 31st. Berrett and company are looking to raise at least $10,000 by that time which would cover postproduction and other incidental costs. There are some very cool "perks" for various levels of support such as a rare autographed copy of Bill Wyman's book, Blues Highway, a 90-minute video chat with the director Gina Berrett and Richard Ramsey of Ghost Blues. There are also collector's T-shirts from past years of the Howlin' Wolf Blues Festival held in Wolf's hometown of West Point, Mississippi that are no longer being made.
Berrett understands that not everyone is in a position to contribute. "Even if you can't contribute, we get it! There are other ways to help out. Sharing the campaign on social media to help spread the word is a great way to help the production and can have a huge impact. We really appreciate it and ask for any help you can provide! Be a part of music history and help us 'Howl for the Wolf!'"