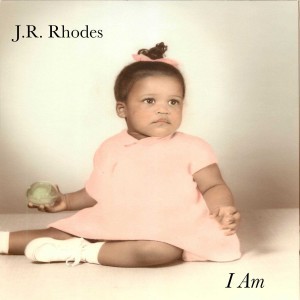 There is a certain element of bluesy folk music in the Seattle scene featuring a relaxed lounge or coffee-house style. J. R. Rhodes, a Seattle-based singer-songwriter, stands out as a leader in this scene with her rich, charming voice reminiscent of Tracy Chapman. Her solid guitar playing and songwriting are reflective of the contemporary, urbane music element she belongs to. Her latest album, I Am features ten original songs that help tell the stories of her life.
During the November album release party at the Royal Room along a hip section of Seattle's Columbia City, J. R. explained that she had taken a songwriting class in which the instructor said that if you use the word "baby" in a song and rhyme with it, you're cheating.
"So, I went home and wrote this song called 'Baby' about how much I love music," J. R. said. It is the jazziest number on number on the album, and J. R. does not "cheat" by rhyming its title. The saxophone, played on the album version of "Baby" by Skerik (Roger Waters, Les Claypool), adds a psychedelic depth to the minor-key song.
"I Take My Time" is a song about an independent woman, singing about stepping away or being aloof in a romantic situation, or possibly just from the grind of modern life in general. It has a slow, lounge-blues quality to it.
"Big Fat Cadillac" is an escapist song about getting away from family problems featuring crafty, minimalistic percussion by Mike Stone who plays percussion throughout the album, consistently punctuating the music as the backbone of J. R.'s band.
Dan Walker, (Ann Wilson, LeRoy Bell, John Fullbright) a Seattle based musician originally hailing from Oklahoma, plays a savvy keyboard throughout the album. His style is influenced or aligned with Southern rock and funky, contemporary Hammond players such as Chris Robinson Brotherhood's Adam MacDougall, although Dan's style is less aggressive than MacDougall's.
The single for I Am is "Your Pillow" in which J. R. sings the catchy rhythm with hair-tingling high notes that seem truly inspired by Tracy Chapman. The song's clever lyrics involve the feelings of a woman who is with one man but dreaming of a long-lost love.
I Am has an overall somber motif, which is fitting as it is J. R.'s way of expressing her feelings of a life that changed as she recently lost her mother, leaving her as the last surviving member of her nuclear family. She addresses this particularly in "Aeroplane," a song about letting go after losing her parents and moving ahead in life with the allegory of an actual trip on an airplane.
Producer Johnny Sangster plays some solid guitar hooks throughout and offers backup vocals as well. He also deftly recorded and mixed the album at Studio Litho & Crackle & Pop!. I Am showcases some of the finest musical talent in the Pacific Northwest and confirms J.R. Rhodes as a break-out talent in contemporary blues and rock.