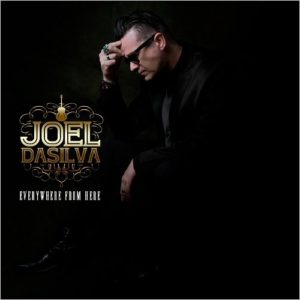 He's opened for J.J. Grey, The White Stripes, The Black Crows, Jeff Beck, and Jimmie Vaughan, and performed with B.B. King, A.C. Reed, The Fabulous Thunderbirds, Reverend Horton Heat and more.
DaSilva claims James Brown, Johnny Cash, Robert Nighthawk, Elvis, Buddy Guy, and Muddy Waters as just some of his influences. Of course, being from Chicago, he knows good blues when he hears it. Now he's living in Ft. Lauderdale, Florida, and the sun and surf agree with him judging from his latest release, Everywhere From Here.
Everywhere From Here showcases 10 tracks and clocks in at 35 minutes. Along with DaSilva on guitar and vocals, we have Robert Cleary on bass, Chris Peet on skins, John Calzavara on pedal steel, Alejandro Sanched on accordion, Rick Rico Geragi plays percussion, Tom Regis tickles the ivories, and Natasha Watkins provides the backing vocals.
Righteous recording and an electrifying mix really convey the joy and passion of the music and listeners are all in before they even realize. DaSilva's tone is absolutely marvelous throughout, and the band builds sonic landscapes for everyone to stretch out on. The variety here is rewarding and impressive, guarantying that boredom is nowhere on the horizon. There's even a wee bit of rockabilly sprinkled here and there, and it's the perfect touch.
Although Everywhere From Here is a well-rounded album, we still had favorites. We really appreciated the superb '70s vibe of "Everyday Man," and the boiling, deep, and tawdry blues of "Down in the Delta." For us, "Cadillac Mama" is a strong, well played roadhouse cut, worthy of a Texas trail indeed. "This Day I Bleed" is rock the way it used to be, with attitude! "Spell On Me" is a tight yet nimble little honky-tonk flavored shuffle, and "Time Heals All Wounds" is an intense, revealing B.B. King influenced pilgrimage.
Everywhere From Here is a fine addition to any collection. Listeners will find themselves going back to it again and again.
Everywhere From Here by Joel DaSilva
Tracks:     10
Running Time:  35:00