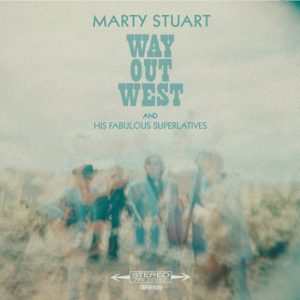 Five-time GRAMMY-winner Marty Stuart & His Fabulous Superlatives will appear on The Late Show With Stephen Colbert on April 24th, ahead of their headlining New York City Bowery Ballroom show on April 26th. Stuart and his band will perform "Time Don't Wait" off their critically acclaimed album, Way Out West, and the episode will air on April 24th at 11:35 PM ET on CBS.
The just released acoustic video for Marty Stuart's "Wait For The Morning" captures a stirring and stripped down performance of the song, and you can watch it here.
Marty Stuart recently announced fall tour dates with Chris Stapleton. Stuart will be a special guest opener for arena dates in Baton Rouge, San Antonio, Bossier City, Austin, and Grand Rapids. Tickets are on sale now and can be purchased here. Stuart also announced the West Coast leg of his headlining US tour in support of Way Out West, his 18th studio album. The new dates include stops in Los Angeles, Berkeley, Salt Lake City, Seattle and Portland (full dates below, with additional dates to be announced). Tickets for this tour are on sale now and can be found here. Ticket holders can also enter for the chance to meet Marty at a private meet and greet before each show here.
Marty Stuart released Way Out West on Superlatone on March 10th. The album was conceived as a love letter to the promised land of California by one of Country music's living legends, who has played with everyone from Johnny Cash to Lester Flatt. NPR Music proclaims: "Way Out West is Marty Stuart's album-length paean to the myth and magic of the American West. It finds country's stalwart neo-traditionalist turning cosmic cowboy for a journey through the Joshua trees, shadowy canyons and desert dreams that tantalize travelers with the promise of a golden shore on the other side." Way Out West is available on CD, vinyl, and digitally here.
Marty Stuart shared his new music video for "Torpedo," a rollicking instrumental track off Way Out West, via Guitar World. The video strings together behind-the-scenes photos taken during the creation of Way Out West, and provides a glimpse into Stuart's studio process. Watch the video for "Torpedo" here. Marty Stuart also premiered the video for his new single, "Way Out West," on Billboard. The video follows a trip, in more than one sense of the word, through the Mojave Desert as narrated by Stuart, and captures his fascination with the American West. The GRAMMY Museum® at L.A. LIVE will present Marty Stuart's Way Out West, a new exhibit opening May 25, 2017, featuring artifacts celebrating the personal collection of Marty Stuart. Click here to see a video of Marty Stuart making the announcement backstage at the GRAMMY Museum.
Produced by Mike Campbell (Tom Petty and the Heartbreakers), and featuring the Fabulous Superlatives –guitarist Kenny Vaughan, drummer Harry Stinson and new member, bassist Chris Scruggs– Marty's longtime band, which NPR Music said could "melt your heart with four-part harmonies, rock your bones with honky tonk, and dazzle you with picking worthy of their name," Way Out West is a cinematic tour-de-force.
Growing up in Philadelphia, Mississippi, Stuart was taken by the mystique of the Golden State: the culture, the movies and especially the music. "Everything that came out of California captivated my kid mind in Mississippi," says Stuart. As such, the album could only be recorded in California, and Way Out West was tracked between the famed Capitol Records, which birthed iconic albums like the Beach Boys' Pet Sounds and the country-rock of Glen Campbell's Wichita Lineman, and producer Mike Campbell's M.C. Studio, where much of the early Heartbreakers music was recorded. Said Campbell about producing Stuart's new record: "Working with Marty and the Superlatives was a blast, and it was fast! My role was easy, just set up the sound and let them play. Great guitars, great grooves, great vocals, they just have it all. This record is one of my favorite things I have ever been involved with."
Marty Stuart is a five-time GRAMMY-winner, platinum recording artist, Lifetime Achievement Award recipient from the Americana Music Association, Grand Ole Opry star, country music archivist, photographer, musician, and songwriter. Since starting out singing gospel as a child, Stuart has spent over four decades celebrating American roots music. His teenage years on tour with bluegrass legend Lester Flatt in the '70s were followed by six years in Johnny Cash's band in the '80s, and a chart-topping tenure as a solo artist in the '90s. Stuart hosts a Late Night Jam at The Ryman, a yearly tradition which kicks off the CMA Music Festival, with recent guests including Dolly Parton, Jerry Lee Lewis, Neko Case, Eric Church, Chris Stapleton, Maren Morris, Dan Auerbach and more.
Way Out West Tracklist:
1. Desert Prayer- Part I
2. Mojave
3. Lost On The Desert
4. Way Out West
5. El Fantasma Del Toro
6. Old Mexico
7. Time Don't Wait
8. Quicksand
9. Air Mail Special
10. Torpedo
11. Please Don't Say Goodbye
12. Whole Lotta Highway (With A Million Miles To Go)
13. Desert Prayer – Part II
14. Wait For The Morning
15. Way Out West (Reprise)
Marty Stuart Tour Dates
April 19 /// Cleveland, OH /// Beachland Ballroom
April 20 /// Buffalo, NY ///  The Tralf Music Hall
April 22 /// Stafford Springs, CT /// Palace Theatre
April 23 /// Phoenixville, PA /// Colonial Theatre
April 25 /// Cambridge, MA /// The Sinclair
April 26 /// New York, NY /// Bowery Ballroom
April 28 /// Mt Tabor, NJ /// At The Tabernacle
April 29 /// Alexandria, VA /// The Birchmere
April 30 /// Wilkesboro, NC /// Merlefest
May 3 /// Charleston, SC /// Charleston Music Hall
May 4 /// Orlando, FL /// The Social
May 5/// Birmingham, AL /// The Lyric
May 6 /// Knoxville, TN /// The Bijou Theatre
May 11 /// St Louis, MO /// Off Broadway
May 12 /// Kansas City, MO /// Folly Theatre
May 13 /// Denver, CO /// Oriental Theater
May 15 /// Berkeley, CA /// Freight & Salvage
May 16 /// Anaheim, CA /// House of Blues
May 17 /// Solana Beach, CA /// Belly Up Tavern
May 18 /// Los Angeles, CA /// Largo at the Coronet
May 20 /// Salt Lake City, UT /// The State Room
May 21 /// Boise, ID /// Knitting Factory
May 22 /// Seattle, WA /// The Triple Door
May 23 /// Portland, OR /// Star Theater
May 28 /// Cumberland, MD /// DelFest
June 7 /// Nashville, TN /// Late Night Jam @ Ryman Auditorium
June 17 /// Hunter Mountain, NY /// Mountain Jam
June 18 /// Brownefield, ME /// Stone Mountain Arts Center
June 23 /// Bremen, GA /// Mill Theatre
July 30 /// Floyd, VA /// FloydFest
August 13 /// Regina, Sk /// Regina Folk Festival
September 22 /// Berryville, VA /// Historic Watermelon Park Fest
October 19 /// Baton Rouge, LA /// Raising Cane's River Center Arena
October 20 /// San Antonio, TX /// AT&T Center
October 21 /// Bossier City, LA /// CenturyLink Center
October 26 /// Austin, TX /// Austin360 Amphitheater
November 4 /// Grand Rapids, MI /// Van Andel Arena
(More Dates To Be Announced)