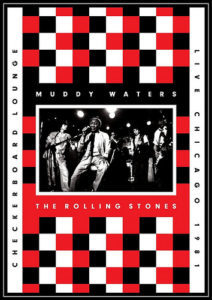 There are moments in music that are magic, and if you experience them live, you know history is being made. Muddy Waters & The Rolling Stones – Live At The Checkerboard Lounge, Chicago 1981 documents just such history being made. As many know, bootleg versions of this show have been circulating for years. With this release by Eagle Vision, we have a remastered masterpiece. For the most part, the sound is awesome and the video is very good.
One of the best things about this DVD is that it conveys the ambiance and atmosphere in the room as the crowd watches, alternately in awe and at times, just off in their own private world, relishing the music as if it was their own secret stash. We have Keith climbing across tables trying to make his way onto the stage. There's Ron Wood, clearly enjoying himself,  just focused and nailing it. Buddy Guy is beaming, happy as a kid about to open Christmas presents. Junior Wells sings and plays just as easy as you please. Just unbelievable!
Then of course there is the music, which is simply beyond words. Viewers can experience old school Juke Joint blues at it's finest. The players are just stretched out, relaxed, and the blues simply flows. There's a smoking version of "Sweet Little Angel." Muddy plays some fine slide on "Country Boy." On "Baby Please Don't Go" Mick, Keith and Ron Wood are just amazing! After a great rendition of "Hoochie Coochie Man" Ron Wood really steps up with some nice slide work on "Long Distance Call." Buddy Guy gets his licks in on "Mannish Boy" and as always, he is superb.
Great performances keep on coming as Buddy plays along on "Next Time You See Me", again contributing his great stylings and being playful while he does it; the joy he has playing is clearly evident. Lefty Dizz, who is obviously feeling good, banters with Mick Jagger before playing some interesting licks on "One Eyed Woman." On "Clouds In My Heart", Muddy sings and Keith, Ron Wood and John Primer provide backing on guitar, turning in superior performances.
All throughout, this DVD, showcases standout efforts by the players. Muddy's band does a great job with John Primer and Rick Kreher anteing up on guitar. Junior Wells is awesome as always, and Ian Stewart on piano is an extra treat. If you don't have this in your collection, pick it up today. It would be a shame for any true blues affectionado not to have this.