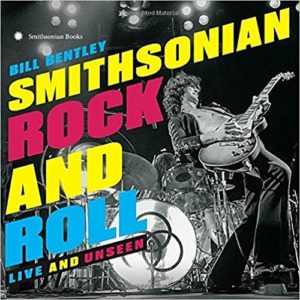 In today's high-tech, gadget laden world, getting an incredible photo of your favorite rock star can be as simple as pointing your iPhone. We all know this wasn't always the case. Professional photographers have captured some of the most paradigmatic images in music history. Then again, Joe or Jane Ticketholder, with their Instamatics and Polaroids, sometimes caught images no one but their family and friends have seen – until now.
Smithsonian Books has published Smithsonian Rock and Roll Live and Unseen. Much more than a coffee table picture book, it combines crowd sourced photos with write-ups from industry veteran, Bill Bentley. For the uninitiated, Bentley has spent more than five decades in music. An industry shape-shifter, he's been a drummer, record store clerk, DJ, music editor, publicist, producer, PR man, A&R Director for Concord Music Group, Vice President of Warner Bros. Records, but through it all, a writer.
Bentley's intimate perspective on the nearly 150 artists captured in this publication, gave us front row, back stage, and bird's eye accounts of what's been going on for over 60 years. Amalgamated with the sometimes ultra-glossy, sometimes gritty photographs between the covers, his aspect further brings to life still images that threaten to leap from the pages.
Smithsonian Rock and Roll Live and Unseen is broken into seven basic chapters. "The Big Bang," put us hip-deep in the birth of rock n roll. Blues music met country roots head-on, and the result was the rise of artists such as Elvis Presley, Chuck Berry, Fats Domino, Bo Diddley, Little Richard, and James Brown. Of course blues greats Muddy Waters, Howlin' Wolf, Jimmy Reed, BB King, and country/rockabilly/Gospel crossover great Johnny Cash, are well represented too. "Moving to Memphis in 1954, Cash—who'd been singing since toddlerhood—realized that music held the keys to a kingdom far removed from his hardscrabble past."
Chapter two covered "The British Invasion and Beyond." As one would imagine, The Beatles, Rolling Stones, The Kinks, and The Who, fell smack dab into this category. Some names one wouldn't expect were covered by the "and Beyond" listing. Otis Redding, Booker T. & The M.G.s, Bob Dylan, The Mamas & Papas, and The Beach Boys are all equally represented.
In chapter three, "Acid Incense & Balloons," we are taken on a psychedelic ride via Jimi Hendrix, Janis Joplin, the Jefferson Airplane, The Doors, and more. Also included in this chapter are the Queen of Soul, Aretha Franklin, Sly & the Family Stone, The Band, Grateful Dead, CCR, CSN, and MC5. It's as if Bentley and company took the genre bending music of the day, and rendered it both visually and verbally. Those of us who were fortunate enough to see these artists in person, can relate to the photographic evidence presented, and the fact that they somehow fit together.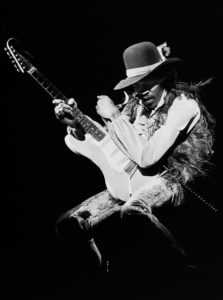 Subsequent chapters cover the great soul artists, the glam rockers, the reggae takeover, funk, folk, punk, heavy metal, and more. Some of our favorite artists are captured in some of the most famous venues in music lore. Prince at the Nassau Coliseum, Tom Petty at the Cow Palace, Fleetwood Mac at Compton Terrace, Little Feat at the Paramount Theater, Ray Charles at the Venetian Room, Howlin' Wolf at the Avalon Ballroom, The Alabama Shakes at Egan's Bar – the list goes on and on.
There are included many great photographs from some of the best eyes in the business. Pictures from luminaries such as Jim Marshall, Steve Banks, and Alec Byrne, are however, combined with fan photos from folks who just happened to be at the right place, at the right time. Nearly two years ago, Smithsonian put out a call for photos, and stories. The results were hundreds of fans digging through attics, basements, closets, shoeboxes, digital cameras, and photo albums to find, and upload their personal treasures. Photo researcher, Susan Brisk, along with a stellar editorial staff, took all these and created a one-of-a-kind work of art, 216 pages in length.
Smithsonian Rock and Roll Live and Unseen is a book that you'll refer to time and again. It will also make a delightful gift for the music lovers in your life. At times bright and lively, at others grimy and foreboding, the images, both professional and amateur, combined with Bentley's writing skill make this a must have addition to any music library.
Please share with us your favorite concert experience (along with a photo you may have of it) in the comments below.
Author: Bill Bentley
Title: Smithsonian Rock and Roll Live and Unseen
Publisher: Smithsonian Books (October 24th, 2017)
Format: Hardcover