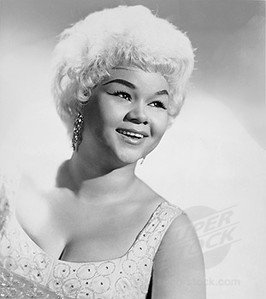 More sad news for blues and music fans this year. The manager of longstanding musical icon Etta James has stated today that the soul and blues singer is terminally ill with late-stage leukemia; suffering kidney failure and dementia.
Lupe De Leon, her manager, says that she has been placed on 24 hour care. Fans have known about Etta's health problems since her hospitalization in January of last year, when her son revealed she had been diagnosed with Alzheimers. One year later she was diagnosed with leukemia, though the extent of her illness has never been publicly known until now.
The powerful singer's last album was The Dreamer, released two and a half years ago. "It's ironic", De Leon told Entertainment Weekly today, "because she sounded so vibrant and powerful on it."
James has been looked after by a live-in doctor, Dr. Elaine James (no relation), who told the Riverside Press Enterprise that she would "ask for the prayers of her fans and friends."
James began singing at a young age, and was quickly picked up by Chess Records, the iconic Chicago-based independent record label known for it's powerful Blues Music hitmaking machine in the 50s. Her most famous album, At Last!, was released in 1961, wich featured her wildly popular songs "At Last", "All I Could Do Was Cry", and "Trust in Me". The album quickly shot her to international super-stardom. Beyonce Knowles portrayed James in the recent hit movie, Cadillac Records. In 2009, James sang "At Last" as a guest performer on Dancing with the Stars. To date, James has won six Grammy awards, is a Rock & Roll Hall of Fame inductee, Blues Hall of Fame inductee, and a seventeen-time Blues Music Award winner, including a multiple-time winner of Soul/Blues Female Artist of the Year.