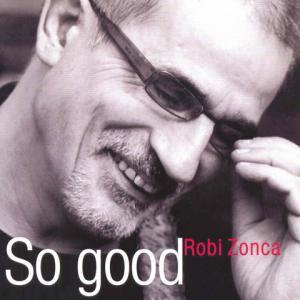 A masterful blend of rhythm and blues, jazz, and  rock, Robi Zonca has kicked out his fifth CD since 2003. I know what you're thinking. An Italian blues player on American Blues Scene? First, we at American Blues Scene are not discriminatory. Imagine the American writer that dissed the Beatles because they were English. Imagine the conversation his boss later had with him.
Yet, we are discriminating. If it isn't good, you won't be reading it here. We have good tastes, and that means that we are thinking about what will best fill your ears with the best music we find. You listeners and players are after all, what it is all about.  Second, if you go look up videos of Mr. Zonca, you'll find several of him in New York City, recording with Bernard Purdy for his previous CD, Rebel. This CD also features Luther Kent returning on vocals, so it has threads here in the US. And that my friends, fits the definition of American Blues. His Facebook posts might be Italian, but he sings in English.
So Good is so good in many ways. Take the songs: The album opens with the title track, one that has a great groove that reminds me of John Mayall, with sharp sharp guitar attack on the verses, and then vocal harmony and choruses that open wide up on the rhythm guitar.   Feel Like Dancing, a composition of Zonca and Aguzzi, is a sweet funk electric piano and horn section mix of  Tower of Power meets (oh that Fender sound) Robert Cray meets Shuggie Otis. It reminded me of Shuggie. What can I say?
From the slow vocal duet with Sabrina Kabua on Save My Soul to the the Chicago Blues feel with Luther Kent on Ray Charles' Don't Let the Sun Catch You Crying,  to the final song, I Know, an acoustic piece with hand percussion on a cajon and a slight flamenco flavor, this album deftly reveals Robi's skill as a song writer and guitar player.
Take the musicians: You might not know any of them, but these cats can play, and with guests like Luther Kent and Sabrina Kabua, it's apparent that they fit right into this versatile and quality Italian band rather well. The bands foundation of Paolo Legremandi on bass and Teo Marchese handling most of the drum chops, Antonello Aguzzi on keyboards, a great horn section featuring Italy's premier trumpet player Fabrizio Bosso, all recorded by Paolo Filippi and mastered by John Davis. Good players, good song writing, good production. Check Robi Zonca out, he's worth it. (http://www.robizonca.it/)
Robi Zonca, it's So Good!