Fresh off his first European tour, one of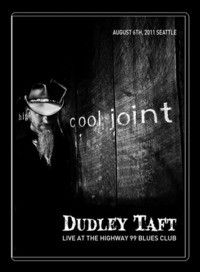 the most talented blues shredders in the world today, MIG Records recording artist Dudley Taft, has just released a brand new DVD.
I cannot recommend this highly enough! Wow! This is just some smoking hot guitar work!
This is $15 well spent:     Buy The DVD here:   Live At Highway 99
A little more about Mr. Dudley Taft:  Just who is Dudley Taft?
Taft comes from a bloodline of politicians and businessmen…think President Taft but let's get one thing clear.  Dudley never plays on his famous family's name.  I mean, growing up his dad owned Hanna Barbera and a chain of TV and Radio Stations. The obvious path would be to ask someone to pull some strings and make him a star, right?  Not for Dudley Taft.  It has always been about letting the music speak for itself.  Dudley has taken the scenic route so to speak with his music career beginning with Trey Anastacio and  their high school band "Space Antelope".   Then his impeccable timing and a hunch that moving to Seattle might be a good idea, led to him being on the ground floor of the grunge explosion.  That led to a couple of major record label deals with the bands Sweetwater and Second Coming. He even co-wrote the song "Unknown Rider" for the Bruce Willis flick "The Sixth Sense" while a member of Second Coming. Eventually, Dudley tired of the rock scene and settled into the type of music that he'll be playing until he has taken his last breath.The type of music on this DVD and the type of music that made him pick up the guitar in the first place.
I personally have had the opportunity to watch Dudley live on several occasions, so the guitar work on the DVD was exactly what I have come to expect from this master of the fretboard.  It does not disappoint.  He starts off the show with the throttle down on his strat and rips into one of the tastiest interpretations of  "Back Door Man" that I have heard.  His version of the mighty Led Zeppelin's song "When The Levee Breaks" is nothing short of spectacular and he  makes his Gibson do some beautiful things. EDITORS NOTE:  I almost always hate it when any band does Led Zeppelin but throw that out the window, this is as good as it gets folks!  The instrumental "Driving South" is just pure blues shredding at it's absolute finest and I know Jimi was smiling when he heard this one.  With his Olympic length goatee flying around on stage,   Dudley takes us on a trip to 56th &  Washaba with the Dylan classic, "Meet Me In The Morning".
To conclude, this is an absolutely awesome live show. Do yourself a favor and pick it up Live At Highway 99
Keep up with Dudley on Facebook here:  Dudley Taft on Facebook