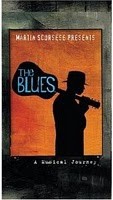 A lot of people don't know that Martin Scorsese, the brilliant mind behind the movies Goodfellas, The Departed, Taxi Driver, Casino, etc., is a serious blues fan. In fact, in many of his movies, background music can be heard from Muddy Waters, Eric Clapton, Elmore James, The Stones, Willie Dixon, and more.
In 2003, Martin set about assembling one of the most comprehensive, broad spanning blues music box sets ever created. If that weren't enough, he spearheaded seven ninety-minute episodes that aired on PBS in the fall of 2003. Each episode focused on a different part of the blues, each directed by guest directors such as Clint Eastwood, Marc Levin and Richard Pearce.
The music box set's first CD begins with a variety of the earliest recorded blues music and each track progresses with the time period. Truly, listening from disc one and continuing on provides a rich musical journey. The forties and fifties "era" on the discs show the broad span of blues from Chicago, Memphis and New Orleans, and as rock forms from blues and begins to take it's place in the fifties in 60s, there are interspersed tracks from Janis Joplin, Jimi Hendrix, and Jackie Brenston. Finally, the last CD comes full circle to the contemporary blues and blues-rock.
Here's an excerpt from Martin Scorsese himself. You can find the rest of Martin's thoughts on the blues in the 58 page book that accompanies the set, as well as a detailed paragraph on every one of the 115 songs on the album and a descriptive essay on the history of the blues, from W.C. Handy to Stevie Ray Vaughan.
I'll never forget the first time I heard Lead Belly singing 'C.C. Rider.' I was entranced. Like most people of my generation, I grew up listening to rock 'n' roll. All of a sudden, in an instant, I could head where it had all cone from. And I could feel that the spirit behind the music, behind that voice and that guitar, cane from somewhere much, much farther back in time.

Many people I know had the same shock of recognition. Rock 'n' roll seemed to just come to us, on the radio and in the record stores. It became our music, a very important way of defining ourselves and separating from our parents. But then we uncovered another, deeper level, the history behind rock and rhythm & blues, the music behind our music. All roads led to the source, which was the blues.