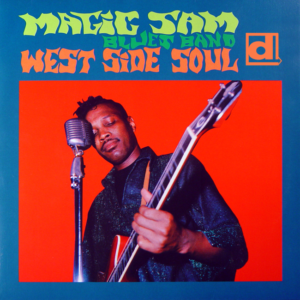 Though Magic Sam died tragically young, he created a versatile soul sound with the definitive Chicago blues stamp that has lasted the test of time. Many have asserted that Magic Sam's West Side Soul album is one of the greatest blues albums to have ever been created. Whether or not that's quantifiable, Sam's album is, truly, magical. His dynamic, straight from the soul vocals could have easily elevated him to astronomical musical heights, but instead Sam opted to simply sing the blues. The truth in his voice has had countless listeners pouring over every word. The guitar work is nothing short of fantastic; precisely timed solos, filled with the raw emotion of long drawn single notes and electrifying  guitar riffs.
Chicago's famous Delmark Records has reissued a highly satisfying Deluxe Digipack version of Magic Sam's aptly entitled West Side Soul. The album has already landed safely in Living Blues Magazine's top ten blues discs, which elevates it to legendary status. The Deluxe Digipack features a careful remastering of the twelve original tracks, which cleans the tone and sound to enrich the tracks. While some listeners might enjoy the nuances of an originally recorded sound, most will strongly appreciate the depth of the sound that remastering provides.
The packaging is a wonderful addition to the original album. The extended liner notes by Bill Lindemann and Bob Koester, a well as a number of previously unreleased images give a deeper, more dynamic look into Sam's short but musically fiery life.
Blues enthusiasts who don't own this album have a gaping hole in their collection. West Side Soul almost certainly belongs in any music fan's repertoire. Audiophiles that already own a previous issue may enjoy the remastered tracks, though it is up to individual preference whether or not to repurchase the latest reissue. Realistically, there are no new or extended tracks or outtakes from the last issue, but the updated tracks and extended notes, pictures and concert plug posters are a tasteful added touch.