We recently got a minute to sit down with the hard-working blues and soul man Hamilton Loomis! Hamilton had a lot to say about Bar-B-Qing and recording with his mentor Bo Diddley, touring overseas, and his Stax/Volt, rock n' Roll, and Blues influences. Hamilton was a lot of fun and a fantastic person to talk to.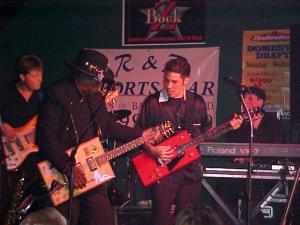 So we hear you've got a new DVD on the way! When's it coming out?
I have no idea. No idea whatsoever. Haven't gotten that far.
We're shooting today and the audio is probably going take a month or so to get anything. That takes months and months. I was thinking that September is a good estimate.
Yeah, I got ya. I was looking on your site and it seems like you haven't put out an album in awhile. Or am I just missing something?
No! The charts actually say it came out in '09 when it came out in December of '09, so really it's only a year old. I should have just put 2010. I could have just delayed it, you know, three weeks and it would have been 2010. But, yeah it's only a year and a couple months.
Well, cool man, very cool. Now, I've heard talk before about you doing a lot of stuff with Bo Diddley back in the day?
Yeah! I'll give you the condensed version. Basically, when I was sixteen my mom took me to see the show in Houston. You know, to see Bo Diddley. I had been listening to him since I was a toddler in the house because my parents had a fantastic record collection of old blues and soul, rock, and rock 'n roll, you know.

So, I'd been listening to him and knew his significance even as a sixteen year old. And I went backstage to get an autograph during his break and I took my guitar and case to have him autograph them and while he was signing the case I was like, "hey Bo, check this out" and I played him some Bo Diddley Songs for him and he started to take notice. He was like, "hey, that sounds pretty good" and I was like "Oh, my God. He's listening." 'Cause I just wanted him to know that, "hey man, you know that youngsters appreciate your music too."

And lo and behold, the second set that he did, I was sitting right up front where he could see me and he called me up to the stage. Says, "hey, there was a young man who played for me backstage and he sounds pretty good. Why don't you hop up here and see if the guitar player will let you play his guitar." And graciously, the other guitar player tore his guitar off, handed it to me and I stood up there and played a song.

Probably one of the most memorable moments of my life! After I played the song, he said, "I'm gonna break your fingers! I'm scared of you!" And he took his hat off and put it on my head. It was just amazing. That was the story of meeting him and then he gave me his home phone number and said we need to collaborate, we need to do some stuff and record together and just I couldn't believe it. We just developed a friendship. We started doing shows with him down in the Texas gulf coast where we would open for him. We got to collaborate together on my 2007 CD, Ain't Just Temporary. He and I wrote and recorded a song together called, "You Got to Wait," which you can hear samples of on my website. And it was hard for me when he passed away in 2008. I'm just really proud to have had that experience. We'd just sit backstage with him and hear him tell stories for hours and hours. You learn so much about the music business, about life. It was just amazing to hear him tell stories about the old days where, "we didn't have this – we couldn't afford this." It really makes you appreciate what you have and that was a just awesome experience.
That's amazing. That had to be an interesting experience.
Oh my god, interesting to say the least! I mean, unbelievable.
Damn, that's cool. How long did you get to hang out with him before he passed?
Well, ever since I was a teenager we kind of off-and-on got to perform together whenever he was in the area. So it was kind of an ongoing thing, really. And then whenever I started touring in 2001, anytime we'd go down to Florida – he lived outside of Gainesville – and, whenever we would do a tour I'd call up and be like, "hey, man. You home?" and he'd be like, "yeah, yeah. You and the boys stop by. We'll barbecue for ya'" Or, he called it bo-becue, which I thought was kind of funny.

And he would barbecue for us and we'd go hang out with him and go into the little studio and toss around some ideas and record stuff and just have fun. It was a really, really great thing to be able to share that with him.
Yeah, that's an amazing experience. Just amazing. Now, you've got a pretty cool style. Like a solo thing goin' on, which I love. It's got a little bit of early rock king of thing. Can you tell me about it some?
Thank you! Well, yeah, it's kind of hard to categorize, which, I have a problem with categorization anyway. Just by nature, when you're categorized your alienated from anyone else who may be exposed to your music but don't because there's a label on it.

And, you know, I don't like that. My roots are blues. When I was growing up, I mentioned the record collection – I got to absorb all that old blues and, fortunately, when I was a teenager a lot of the old blues guys were still around and just like Bo, there were a lot guys who took the young white guys under their wings and kinda showed 'em the ropes to sort of pass on their legacy a little bit so that we would keep the appreciation going for them and their music. Specifically, I'm referring to guys like Johnny "Clyde" Copeland, Albert Collins, "Gatemouth" Brown, and especially Joe "Guitar" Hughes – not as well known, but really took me under his wing and showed me the ropes and taught me so much as far as not just playing but being a musician, you know. Those guys were a huge part of my roots growing up.

But, as you can hear, yeah, you know, there's a little bit of rock that creeps in there; a lot of soul. That's what I listened to. When I was growin' up it wasn't just blues and stuff it was Stax Soul.
Oh, yeah!
That was the bomb.
The end-all, be-all. Hell yeah!
Oh, absolutely, dude. You know, so that's why the soul element kinda creeps in there, but at the same time, watching MTV was big when I was growing up. I was there when it was getting started. So, that pop sensibility kinda might play in there.

How would I describe my music? Well, you take a big pot and you start out with a broth made out of blues and then you add the ingredients of soul and rock and pop and funk, you know – bring to a boil, serve it up and there it is.
Awesome. We got to go down to Stax Records in Memphis the other day to see their music academy. You gotta get down to the museum if you haven't.
I have! Oh, absolutely I have! It brought tears to my eyes several times. Especially seeing Al Jackson Jr's old drum kit. That drum sound, that's part of the reason I like my CDs mixed the way they are – with the vocals kinda in the back in the mix and the drums as the loudest thing. With Al Jackson Jr's drum kit, I can pick out that snare drum anywhere. And, seein' Donald "Duck" Dunn's old bass, you know, it was just like, "Oh!" I got emotional man.
Unbelievable. For sure. So you said you've got a live DVD comin' out sometime in September? What else you got going on? I heard you tour a lot.
It's coming out in September. My last one was actually live in England, which I can use as a segue here.
Cool.
We've been going overseas for how many years now and in May of this year, I'm going to be doing another tour of U. K. and Europe and a week down in Australia for the Broadbeach Festival (Blues on Broadbeach Music Festival: 26-29 May, 2011), which is a huge one. It's their tenth anniversary.

It's been a tremendous experience to travel all over the world and experience the different cultures, different countries and different customs, different ways of life. It's just really open-minded and you get ideas about how the rest of the world works and you tend to take those blinders off that Americans are so prone to do.
What kind of following do you have in other countries?
I'll tell ya, the appreciation is just tremendous. First of all, you got to remember the Europeans, ya know – and especially the English – are very academic about American roots music and blues, you know?

And they have a great appreciation for it. It's even more so than here in the states. And, you know, it's not our fault. It's just that sometimes you can take for granted what you've always had. It's always been something that's been far away for them. It's interesting to think about how, back in the sixties, the British blues acts – Clapton and Yardbirds, Rolling Stones, John Mayall, the Bluesbreakers – really had a role in bringing American Blues back into the forefront, which was really interesting.

My favorite story: hearing about how the Rolling Stones were gonna go on Shindig, the American TV show and they were like; well, we won't go on unless we can bring Howlin' Wolf with us and they were like, "Who?"
Nice. Yeah, have you read Keith Richards' new autobiography yet? It's just packed to the brim with stuff like that, "we just wanted to be the best blues band in England," you know.
Yeah! My only thing is I'll have to wait until it comes out on audio book because I do so much driving, that's the only time I can actually read is when I'm listening to books on tape.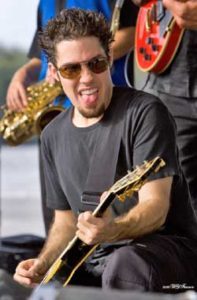 So, festival seasons' comin' up, you doin' anything in the U. S., here?
Yeah! Absolutely! We've got a bunch of 'em out on the west coast: we're doing some in Washington State, then in June we've got the Western Maryland Blues Festival; first week of June, which is a fantastic one. We did it last year with Bernard Allison headlining and, um, I can't remember what the other ones are off the top of my head; but, yeah, it is definitely festival season and we're gonna' be hittin' it hard and heavy.
So, you've been with Blind Pig Records for almost a decade now, huh?
Well, I was on with them from '02 to '08 and I'm independent now. So, yeah, I still have a good relationship with them. There's no bad blood or anything. Everything's cool. They're a great label. The cool thing about them is that they really do, unlike a lot of labels, allow the artists pretty much all the artistic control. They let you produce it or issue it or whatever you want. They're really open-minded in that way. The only thing that I felt was kind of holding be back – like I said earlier – was being categorized. When you're on a blues label you can only get in the blues section. You can only get played on blues stations. There's that other 95% of the listening audience that you can't reach just because of the limitations of being on a blues label.

And that's the only reason. It's nothing to do with Blind Pig at all. They're a great label. It's just that I wanted to reach more people. Maybe even like round up some of the college aged people. Getting that age of music fans into roots music. Because, first of all: all of our popular music comes from blues. I don't think a lot of young people realize that. Even rock 'n roll in the 50s was just blues sped up.

You know, if you listen to every Chuck Berry, every Little Richard song it is 12-bar blues played really fast. That's all it is.

I think it's important for young people to realize that too. The really cool thing about right now at this space and time, in 2011 is that a lot of the traditional blues fans, who are baby boomers age. They've got kids who are in their 20s now. There's some crossover now that their kids are old enough to go out and listen to music for themselves, legally. There's this crosspollination that I see start to happen at festivals and venues. You start to see that more, and I think that's great. One of my goals is to bridge the generation gap. 'Cause I'm rooted in blues. I mean, I don't know if you've seen pictures of my band but they're all way younger than me. And that was a conscious decision to hire young musicians so that at least that visual appeal will transcend a little.

So, what I found is that not only the energy level is higher. That's the reason I waited so long to shoot a DVD because the chemistry right now is just better than it's ever been and my guys are just fantastic musicians and they're all virtuosos in their own right too.

It adds this great element of energy to the sound, which I love. We've been playing a lot of non-genre specific music festivals and that's been great too. Because that's going to get a whole other audience, other group of people, interested in blues and roots music. You know, I am a missionary of sorts…
You beat me to it. I was going to mention the same thing.
Brother, I mean, we're on the same page. It's very simple to see what a lot of these young artists are doing too – of course, Kenny Wayne Shepherd and Jonny Lang are the two biggest examples on major labels.

To the bone they're blues players, but they're getting exposed to a whole wider audience and I love that. Jonny Lang's first record for A&M was Lie to Me and it's a real rootsy, soulful record.

And I've opened for Jonny 3 times now. The most memorable one was at the Santa Cruz Blues Festival way back about nine years ago. I remember Lie to Me was still pretty fresh and I remember when he launched into that tune every freakin' sixteen year old girl was going "ahhh!"
Awesome! Power, man.
See what I'm sayin' how powerful is that, dude. Freakin' sixteen year old girls screamin' to the blues. Hello. Lightbulb.

See what I'm sayin'? That's what I'm talking about. I thought it was great when John Mayer a few years ago came out with that trio album. He's bringing back some old blues and he does a great version of "I Got a Woman" by Ray Charles.
I have never heard that. I had no idea he even made that song.
Yeah, you can hear these girls screaming and stuff and I'm like, "dude, he's doin' it." Fast-forward and even Cyndi Lauper did a blues record.

It's like, even if you're a purist and you don't agree with a pop artist like Cyndi Lauper doing a blues record. Look at what she's doing for the genre! Look at how smart she is to surround herself with so many smart musicians, incredible musicians on that project, and she's using her pop fame to educate a whole new generation of people. Just like Eric Clapton did in '94 when he came out with "From the Cradle." It's the same thing. Of course, Clapton is more of a blues player obviously, I mean he was a freakin' fantastic blues player way before that with Cream and John Mayall and the Bluesbreakers – but, still using his pop, cult following — you know what I'm trying to say… using that – to educate people.
All these big name people are paying homage to the blues lately: Tom Petty, Hugh Laurie, Gregg Allman, Cyndi Lauper… Big Head Todd just did a whole big thing.
Yeah, in fact, we played the Magic City Blues Festival (Billings, Montana, August 11-14, 2011) with Big Head Todd back in '06 in Billings, Montana.
We recently spoke with Joe Bonamassa and he said, "I believe the hard blues is coming back, it's going in cycles and it's got a big renaissance coming." I agree with you. There's been a huge amount of support for the blues lately. Everything he's saying is right on par with what everybody else is saying about it.
Well, absolutely. And it has to, because we don't have many blues legends left. I mean, Pinetop Perkins just died this week. So, really, you've got B. B. King, Buddy Guy, and a few sidemen left, like Hubert Sumlin. I mean, that's pretty much it, you know?

When they do pass on – yeah there is going to be a renaissance. It's happening now, which is great because they're planting the seed. That puts us in a good position being kind of rooted in blues. That appreciation is going to transcend, I believe.

When I'm back in Houston, occasionally, I teach harmonica workshops. It just kinda fell into my lap. I've been teaching 'em for like twelve years and that one of the things I go over is, like, the influence on popular music of blues. The brief history, I mean, I'm not a scholar by any means, but the mechanics of it – I go into that rock 'n roll is sped up blues. I'm like, "here, let me prove it to you." I put on a famous song like, "Johnny B Goode" and I'm just like, "count with me. 1-2-3-4, 2-2-3-4" – all the way through to twelve and they all go, "wow."

Yeah, every single song you can think of – "School Days," "Maybellene," "Roll Over Beethoven," all of 'em! It's uncanny.
So, tell me, you got a pretty smooth vocal section going on and a horn section. I assuming, I mean, how much of that is influenced by the old Stax/Volt stuff.
Oh, well, it's absolutely influenced by the old Stax/Volt stuff. We take it to a different level also because, um… Well, it actually happened by necessity. I slimmed my horn section down to one. We utilize a harmonizer for the horn parts.

We got the idea from Average White Band. They were from Glasgow, Scotland. They were really influenced by James Brown – the two guitar thing where one of the guitars would be the groove and the other would do the chords and stuff. It was really well arranged. But anyway, regardless, their saxophonist… They went down to one horn and that's where we got the idea of using the harmonizer. It kind of adds to it.

Before I was touring, I had like a two or three piece horn section and that definitely had a lot to do with the Stax influence. Obviously, that meant the horns. Andrew Love and Wayne Jackson, they're all over everything. They were on Robert Cray's early album. They're just absolutely a part of everything I listened to growing up.
So, tell me about your live show. What kind of stuff do you do? You kind of mentioned some of the stuff did, like the not always blues stuff, but now I'm kind of curious as to how your live shows go on.
Well, what's interesting is that you won't hear one 12-bar song. It's all original. I write all the stuff. Most of it anyway. About 95% of it. And the structure is more like soul – you know, the Stax stuff – they all have an interesting bridge. Versus-chorus-bridge-solo, you know, they all have structure but also I like improvisation within the structure because we like to stretch out a little bit too, which you can hear by listening to the CDs and stuff.

We also have a visual element to because I love performing and putting on a show. But, yeah, I've been known to jump out into the crowd and get up in people's faces and stuff. It's engaging, and I like to get the crowd involved because a show should be interactive, a show should be engaging. If you go see a movie, you just watch it and that's it. That's why live music will never die: because you can always listen to music, but you can't always experience music. You know? There's a difference.
Sure. The energy.
Yeah, man. Definitely. Definitely. That's why we like to get the crowd involved. Really put on a show. What's interesting is on the live CD in Britain, you can't hear the crowd too much and the reason for that is the English are very respectful and quite when you're playing. And what's so funny is that I actually had a reviewer for a news magazine say, "Oh, the crowd was silent." But they don't say anything or make any noise unless they're provoked, like "how ya'll feelin',?" "Yeah, man we feel good. Okay, shh, they're playing. Be quiet." That's how they are. And they're really interesting. So, yeah, they make a lot of noise – after they're done with your song, they clap and they applaud and they're like "yeah, yeah."

What is really funny is after the last cut, "Get My Blues On" – they're yellin' so loud that one guy, actually is cussing, like, "F___in' A!" Like, you can hear him, which is really, really funny.