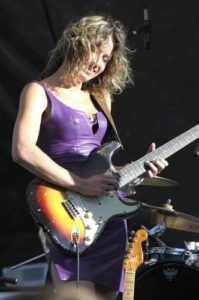 When Rick Booth began Intrepid Artists and began booking artists for live shows, he did it the right way. He signed up top notch talent, found good office space, and always lived under the "do unto others" motto. Most importantly, however, he surrounded himself with great people, a key characteristic that he maintains to this day. The magic formula must have worked, because Intrepid Artists is in it's 17th year of bringing amazing musical talent to adoring fans across the globe.
Though Intrepid is often associated strongly with the many blues and blues-influenced acts under it's tutelage, don't call them a blues agency. "We're a good music agency," exclaims Rick, with his trademark slight southern accent. Indeed they are. Chances are, if you've seen very much great live roots, soul, blues-rock, blues, or great music in the past decade, a good amount of it was brought to you by Intrepid Artists. Walter Trout, the Honey Island Swamp Band, Jimmy Thackery, Ana Popovic, Trampled Under Foot, Curtis Salgado,  Janiva Magness, and most recently, Bobby "Blue" Bland are just some of over thirty acts that Intrepid currently books.
[pullquote]"Everywhere I go, Jerry Garcia is following me!"
– Jimmy Thackery[/pullquote]While blues festivals & support across the country remain strong and continue to grow, there is a whole host of entertainment competition vying for the attention of the people at large. From television & sports to pop stars & DJs, the field is full of distractions. "It can be a tough business. You can put on a great show, you can do everything right, and you can still get screwed," says Booth, who laments about a recent fantastic booking for Janiva Magness in Saint Louis, only to be steamrolled by U2 deciding to play a concert next door. The unique and sometimes great challenges facing any booking agency are always present, but the perfect combination of growing with the times and technology, as well as keeping top people, has enabled Intrepid to continue to spread live music across the globe. "Back in 2005, I had two agents leave me in a 3 month period… Adrenaline kicked in, and I went and found these guys Jake Kankheit and Brad Stewart, and they have just done an amazing job," Says Booth. "Between tweeting and Facebooking… Having a young staff helps me keep up with the times and stay one step ahead of the competition. They keep me very fresh. That's the key to Intrepid."
While some new impediments have grown through the years, some haven't experienced much change. In the 1990s, the Grateful Dead were touring in nearly every city that Jimmy Thackery was booked in, at roughly the same time, leading him to joke that "Everywhere I go, Jerry Garcia is following me!"
Unprecedented worldwide economic trouble and fierce competition hasn't slowed Rick or his fantastic staff at Intrepid Artists. In fact, they've expanded to book more strongly internationally, where vast foreign crowds across Europe are clamoring for blues. Booth says many countries overseas experience strong support. "For the most part, it's really good. Like eastern Europe; those people are starved for live music." Croatia, Macedonia, Turkey, Spain, and Italy — The staff at Intrepid continues to book their many talents across the globe, despite the interesting and sometimes pain-staking complications that can arise when jet-setting bands and their equipment across multiple countries' borders. In fact, while speaking to the American Blues Scene, Mr. Booth had to pause once or twice to help his people sort out an unfortunate plane mix-up that stranded past IBC winners Trampled Under Foot somewhere in Europe on the way to a festival.
There are many day-to-day complications that Intrepid Artists has to overcome to bring it's dozens of amazingly talented acts to adoring audiences, yet out of love for great music and the unflinching desire to keep the beat, both the artists and the staff march steadfastly onwards. While going to see live music seems simple enough, actually bringing that live music to the people can be a daunting task, filled with sometimes outrageous complications. Despite all of this, Intrepid Artists may overcome these problems with more class than any other agency, and in the mean time, provides some of the best music being made to worldwide audiences.