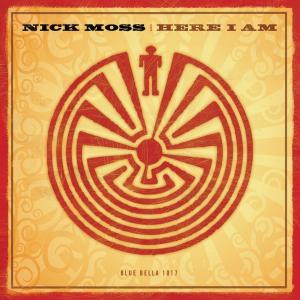 The new album Here I Am by Nick Moss has been a hotly awaited item after the success of last year's Privileged.  Moss wastes no time in proving that the wait was worth every minute.
The title track says nearly everything that needs to be known about Nick's ambitious and welcome direction in the blues. "Don't box me in or paint me in a corner. You might think you know me, but what you know don't concern me." In this charged climate that the 99% of us find ourselves in, with occupy movements, massive unemployment, and flaccid politicians, Moss's lyrics, often speaking to the human condition, ring more poignant than ever. "Blood Runs" speaks to the working class plight. "Little by little, they're taking more away. Is this what they mean by the American Way?" he pleads over amped up, contemporary Chicago blues licks. "It'll Turn Around" bleeds soul, making a memorable impression as a standout track, while "Katie Ann (Slight Return)" sports a jam band appeal that is unusually infectious.
Ultimately, Nick delivers stinging, rocking blues in a style that the ultra-talented musician has forged into his own. He draws from the rich Chicago Blues he learned from the greatest in the business, and the progressive blues-rock he's adored since he was a young man. Nick Moss has the rare and treasured ability to be blues in a way that is progressive and exciting, lending optimism and depth to the genre. Here I Am is proof positive.