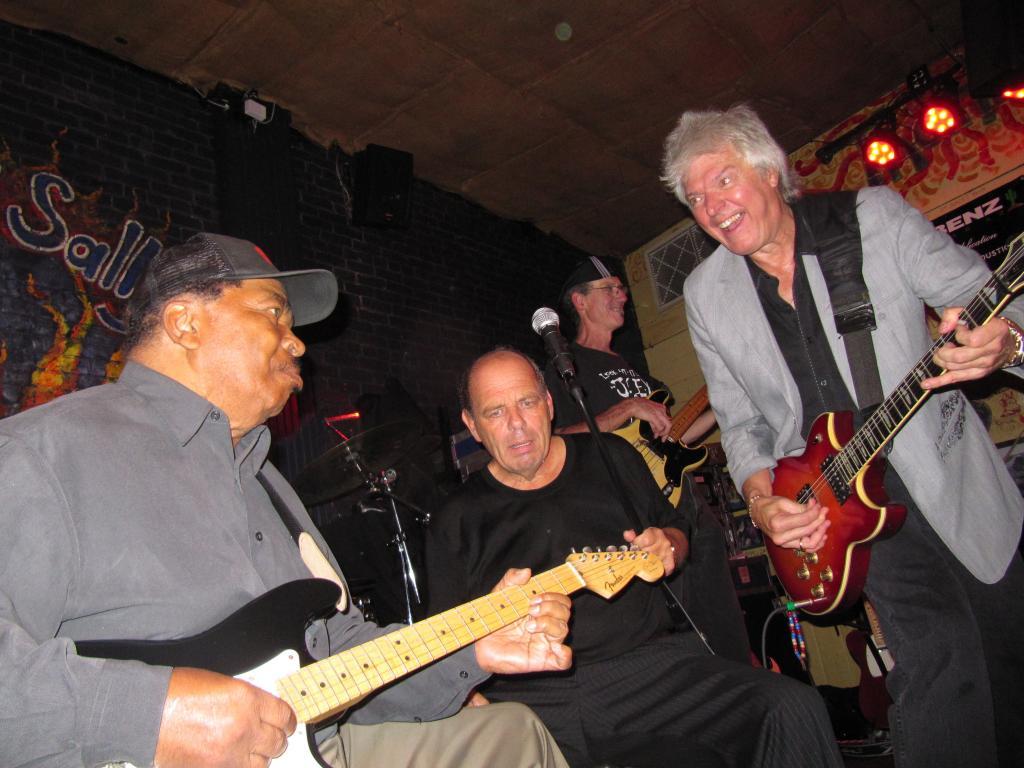 Ten years removed from a stroke that had doctors saying he wouldn't be able to play again, Matt "Guitar" Murphy, 81, is proving age and injury can't diminish his skill set.
Guesting with the Shaboo All Stars at Hartford, Connecticut's Black Eyed Sally's on Oct. 8, Murphy wowed the packed house with his fretwork. He was having such a great time, in fact, that he even took a turn on the microphone for a portion of Jimmy Reed's "Baby What You Want Me to Do," switching up the lyrics from "I'm going up, I'm going down…" to a more suggestive "I'm going in, I'm going out." A naughty smile made it absolutely clear what he was singing about.
For the most part however, Murphy – who raised his profile exponentially with a featured role in the 1980 "Blues Brothers" movie alongside John Belushi and Dan Akroyd – stuck to what he does best, playing chords or sweet solos while David Foster and other members of the Shaboo All Stars handled the vocals.
Whereas many blues players rely on phrases with dramatic string bends to get people's attention, Murphy proved throughout the night that bent notes are merely one aspect of the blues. Amazingly fluid, his playing sometimes hinted at jazz. He also showcased his trademark speed, with some rapid-fire tremolo picking. Murphy's continued top-notch musicianship is even more impressive given that the stroke he suffered affected the entire right side of his body. It kept him off stage for some time, but he resumed playing in his hometown of Miami a few years ago. However, his reunion with former band mate James Cotton at last year's Chicago Blues Festival marked his official return.
Murphy demonstrated to the American Blues Scene at the Hartford show, how he's fortunate he is that his strumming hand has a decent range of motion. Not all stroke victims are so lucky, he said.
Murphy – who added the great guitar work to pianist Memphis Slim's 1950s albums – was given numerous opportunities to shine at Connecticut's premier blues club, on the show opener, "Every Day I Have the Blues" as well as Big Joe Turner's "Shake, Rattle & Roll," Junior Wells' "Driving Wheel;" and Muddy Waters' "Got My Mojo Workin."
In addition, he and Shaboo guitarist Cliff Goodwin engaged in a friendly six-string shoot-out during Chuck Berry's "Johnny B. Goode." Foster- giving his vocal chords a short break – took a seat and bugged his eyes and whipped his head every time the guitarists flanking him traded licks.
The combination of Murphy, the Shaboo musicians and their lead vocalist – Foster is a healthy blend of Jerry Lewis and Junior Wells – made for a truly entertaining night. The dance floor was packed by the second song ("Put On Your High Heel Sneakers").
Blues dominated the night, but there was also a good mix of early rock 'n' roll and southern soul – such as Chuck Berry's "No Particular Place to Go" and a trio of Wilson pickett tunes – with some Joe Cocker and James Brown, among others, thrown in.
Seven members of the Shaboo All Stars were on hand – the band gets its name from a club Foster ran in the 1970s and '80s – but the group is actually twice as large. The full ensemble can be seen and heard at Mohegan Sun Casino, though they are billed there as David Foster and the Mohegan Sun All Stars.
As Murphy played with the band at Black Eyed Sally's, he moved little as he sat and played. Wearing a hat and looking down at his guitar, one might have thought he had dozed off, if you ignored his hands. However, he was simply focused on his playing, focused on his hand positions. When he did get animated, it was during his solos. The head raised, facial grimaces could be seen, and Murphy's left leg, spurred on by the music, lifted high off the stage floor in between stomps.
But Murphy was more about the music than showmanship and it was easy to see why blues legend Muddy Waters once told a club owner Murphy was the best he ever heard.
No one left Black Eyed Sally's dissatisfied.
"It was the greatest blues band I've seen in a long time," said Sylvie Clavette of Hebron, CT.
"Everyone seemed like they enjoyed it (the show)," said Murphy, whose latest release is titled Last Call at the 40 Watt Club, a 1986 live recording from the 40 Watt Club in Athens, GA.
Asked which song he enjoyed playing the most with the Shaboo crew, Murphy responded, "All of them."
Foster would agree.
"This is where I grew up, in a little club like this," he said. "This is like breathing for me."