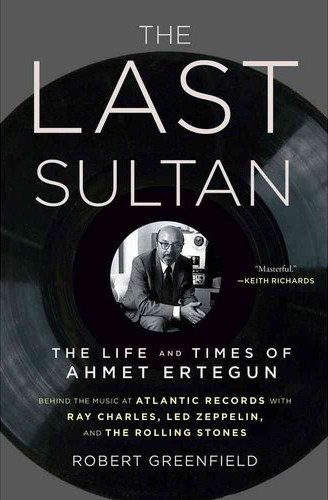 We're GIVING AWAY a copy of The Last Sultan, the much celebrated and long-awaited hardback biography of Ahmet Ertegun, the founder of Atlantic Records and the man that was undeniably one of the most pivotal figures in shaping nearly everything about the music we know and love. Just sign up for the American Blues Scene mailing list to be entered for your chance to win a copy of the book! See the details below.
Atlantic Records has a long standing reputation as one of the most important and prestigious record labels in music history. The hard-earned legacy and legend left by the label's founder, Ahmet Ertegun, rivals that of Atlantic, the label he worked tirelessly to create. The acclaimed biography by celebrated author Robert Greenfield reveals the fascinating, hilarious, and turbulently beautiful life of Ertegun. The book follows his birth in what is modern day Turkey, coming to America as a young, rabid Jazz fan and getting to meet — and later record — many of his Jazz and Blues idols. In between his dances through the wildly different worlds of the A-list elite and the hip, notorious backdoor Jazz clubs,  he managed to build a mammoth business from scratch and make some of the most famous recordings in history — with the help of good friends like Ray Charles, Eric Clapton, Bobby Darin, Big Joe Turner, Led Zeppelin, the Rolling Stones, and Kid Rock, to name a select few. The Last Sultan is a fascinating look inside blues, jazz, the development of rock n roll.
To enter for your chance to win a free copy of The Last Sultan: The Life and Times of Ahmet Ertegun, just sign up for the American Blues Scene blues mailing list below! We'll announce the date of the drawing  soon!
Customize your blues experience!