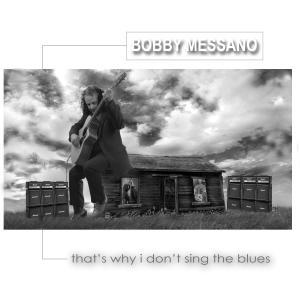 Bobby Messano's album That's Why I Don't Sing The Blues continued it's assault on the Blues Top Five chart, again securing the #1 spot. Sena Ehrhardt took the number two spot with her award-winning Leave the Light On, released by Blind Pig Records. Live in Shanghai by Moonshine Society placed third on the chart. 10:49 by Aaron Williams and the Hoodoo earned the #4 position, and Calling Your Name by Trevor Sewell rose for the second week to secure the #5 position. The Grammy-nominated Bobby Messano has just released That's Why, his fifth contemporary blues album, in July to critical acclaim.
You can find more on Bobby Messano's album That's Why I Don't Sing The Blues  and pick up a copy of his #1 album at his official website.
The Blues Top Five is an album chart that gives blues fans a voice. Once per day, fans can vote on their favorite album. Every Sunday, the algorithm takes fan votes and aggregate data to compile a benchmark of some of the most popular albums each week. The number one position secures press to the thousands of daily American Blues Scene fans, announcements on social networks, and an announcement and airplay on our fine blues radio show affiliates.
Stay tuned to the many exciting blues radio shows across the country to hear a single off of That's Why I Don't Sing the blues this week!
If you don't see it, ask your band to submit it! 
And be sure to check out Bobby Messano on Facebook
Below are just some of the exciting blues radio shows that are affiliated with the Blues Top Five
Smokestack Lightnin' Blues Radio – Syndicated on 16 stations across the country.
WUCF, 89.9 Orlando, Florida
KJZA, 89.5 Williams, Arizona
KJZP, 90.1 Prescot, Arizona
KJZK, 90.7 Kingman, Arizona
KJZA, 89.5 Flagstaff, Arizona
KJZA, 91.3 Flagstaff, Arizona
WPRL, 91.7 Lorman/Jackson, Mississippi
KASU, 91.9 Jonesboro, Arkansas (Memphis market)
KCOL – Kansas City Online Radio
95.7 The Wolf, Fredericton, New Brunswick, Canada
WZXP, 97.9 Burlington Vermont
BluesJazzRadio.com, Virginia Beach, Virginia
Rock100DIZ.com, Orlando Florida
Aquarius 7 Broadcasting Network, Orlando, FL
Blues Radio on WEFT 90.1 FM East-Central Illinois
The Blueshouse Hosted by Jonathan "Oogie" Richards & Sweet Danny Ray O'Byrant
KSER 90.7FM Everett, Washington, LIVE every Thursday 10:30PM PST to 12:30AM PST
Music On The Couch – "Musicians You Should Know" – Monday's 9pm central time
Blues Therapy Radio hosted by Bigdaddy Ray (7-9PM PST) at 90.5 FM or online at www.kwcw.net
All Blues hosted by John Kessler on KPLU FM Tacoma/Seattle 88.5 (NPR)
Down in the Delta hosted by Dj Fullmetal Wednesday nights on the W.H.O.B. Radio Network