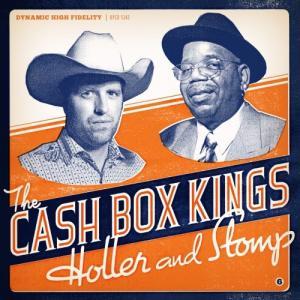 Cash Box Kings has scored another hit with Holler and Stomp, a slight depart from their "50's cool" Chicago style, adding just a touch of Sun Records' style rockabilly. Holler and Stomp, released by the prolific Blind Pig Records, snaps out of the gate, sucking the listener into a blusey groove, smooth vocals, and country blues-tinged riffs. The addition of Chicago Blues' early roots sounds lends an appealing, energetic twist to a familiar and well-loved genre.
Feel Like Goin' Home, a take on "Walkin' Blues", is slow, sultry, and a bit rough — in a good way. The funky South-Side Chicago feel of "Fraulein On Paulina" is a memorable number with a chorus that can stick to your head like glue. "Barnyard Pimp" is a hilarious tongue-in-cheek track, complete with wildly talented chicken squawking abilities that would make Super Chikan proud.
There is something special about the Cash Box Kings. Their sound is infectious, fun, occasionally playful, and always on beat with the right instrument, vocal hit, or accent. Often times, subtle nuances can make the difference between an album being "genuinely fun to listen to" and only being "good". When it's fun to listen to, it's magical. Chicago's Cash Box Kings nails the "fun". It is likely no surprise that a lineup this talented is again creating vibrant, exciting new blues music.  The stage mastery of Oscar Wilson, unmatched drumming of Kenny 'Beedy Eyes' Smith, son of the late Willie 'Big Eyes' Smith, and Billy Flynn, who contributes a range of instrumental and vocal talents. Joel Patterson plays guitar and vocals, and Jimmy Sutton and Brad Ber both add upright bass to the mix — an expert touch that doesn't go unnoticed, and lends an aire of authenticity to the Cash Box Kings' post-war Chicago style first trademarked by Willie Dixon.