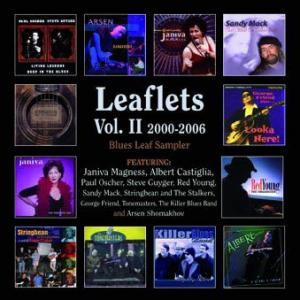 Ten Blues stallions and a mare make up the corral represented in Blues Leaf Records, Leaflets, Volume II 2000-2006, issued this year for blues listeners.
The one mare is none other than the award winning West Coast resident Janiva Mangess, with a sultry Stormy Blues, and deep, almost swing groove of Nobody Loves You Like Me, From her Blues Leaf days. The stallions are made up of a heavy east coast Tri-State contingent of award winner Paul Oshcher's solo acoustic/harp blues, playing his own all Night; harp players Steve Guyger on his Chicago styled Sometimes I Wonder, and Sandy Mack playing Keep Holding on Baby; The Killer Blues Band with their unique band composition of organ, drums, and violin playing Don and Dewey; The Tonemasters with their three piece presentation of a swingy jazz blues on their Goin' With The Flow; and the fabulous String Bean Stalkers, with their Back On That Horse and I Wish You Would, on this collection.
From Texas, organ player Red Young dishes up his Texas blues style on his Organ Grind Blues, and from Detroit we have George Friend with his laid back Cajun rock-a-billy styling on his own Whole Lotta Trouble, from Miami native Albert Castiglia, with his beefy version of Graham Drout's Big Toe, and from Russia via Canada, the cutting Stratocaster sound of Arsen (He set's it on fire!) Shomhakov.
Two things I like about this CD. First, it's a great sampler of some excellent artists. Awards are great, but I look for artistry, and this collection is top shelf. Second, this is a great party CD. When I was a carpenter, I'd take my iPod to work, plug it into my iHome and put it on shuffle and make my co-workers listen to whatever came out. That includes classical pieces, university lectures, and the 6,900+ songs I have. Like radio with no commercials, and an education to boot! This CD by Blues Leaf is a smaller version of that, from the quieter Delta style of Paul Oscher to the appropriately named Dangerous, by Arsen Shomakhov. Put it on, turn it up a bit. It's the perfect backdrop to a night of barbeque with friends.