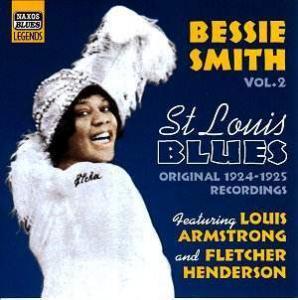 Bessie Smith is said to have died, after an automobile crash, at a local hospital in Clarksdale, Mississippi. Could she have been saved?
Bessie Smith was born in Chattanooga, TN in 1894.  She would go on to be arguably one of the greatest voices in the blues, and was even known as The Empress of the Blues.  Smith would later die, as reported, on September 26, 1937 in a hospital in Clarksdale, Mississippi due to the results of an automobile accident. What really happened that night? Could Bessie have been saved? How, exactly, did she die?
The night of the accident was a very clear night in Mississippi. There was no rain, and few clouds. It was nearly 2:00 AM, and Bessie Smith was traveling along Highway 61, like so many great blues artists do. She was traveling in an old Packard, built with a wooden frame. Her career was somewhat winding down. She was no longer traveling by personal train car, or selling out large theaters. She was playing smaller clubs, and on this night, she was headed to Darling, Mississippi to do a show. She was being driven by Richard Morgan, her driver, who also happened to be her lover. They decided to leave Memphis early to get a head start going to the gig. She would never arrive.
As they were heading down Highway 61, Richard and Bessie both had trouble seeing the truck that had pulled over on the side of the road to check its tires, and was pulling back onto the road. Morgan tried to swerve around the truck. The two collided. Bessie, who had her arm out of the window, took the full brunt of the impact. The roof of the Packard was completely torn off. The truck, claiming to be carrying US Mail and the morning edition of the paper, fled the scene of the accident exclaiming he would send help. A White surgeon, named Doctor Hugh Smith, was traveling along Highway 61 with Henry Broughton, the two of them on a fishing trip, when they came upon the wreck. Morgan flagged them down, asking for help. It was 2:00 AM. Smith and his associate jumped out of the car, and by the light provided by the headlights, examined Bessie. Her right arm had been torn completely loose at the elbow. Dr. Smith said "..in essence, a traumatic amputation…". The artery in her arm was still intact, and she was bleeding profusely. Dr. Smith applied a tourniquet. Bessie also had severe internal injuries to her chest and abdomen. She was conscious.
As Dr. Smith and Broughton were helping Bessie as best they could, another car, carrying a man and a woman (both white) crashed into Dr. Smith's car. Now they had three patients on their hands. Traffic began to mildly back up, and the ambulances started to arrive. This is where things sometimes get dicey.
It has been largely reported, most notably in DownBeat, that Bessie Smith was taken by ambulance to a white hospital, where she was turned away. From there, she was taken to G.T. Thomas Afro-American Hospital (now the Riverside Hotel) where she was pronounced dead. No records, if they ever existed, were found concerning her stay at the hospital. Could the white hospital have saved her? The short answer is no. First of all, the two hospitals were not even a half-mile apart. Secondly, in 1937 in the deep south, where almost everything was segregated, no ambulance driver would even think of taking a black patient to a white hospital. Instead, they would have drove straight – and quickly – to the black hospital. In actuality, some reports even have her being transported in a hearse, as black people were not allowed in ambulances at all. To support this claim, the driver who took Bessie Smith to the hospital, Willie George Miller, who worked for the L.P. Gibson Funeral Home, recalls himself driving her directly to the African American hospital, and that Bessie died en route (this is not true, and his memory of the issue when interviewed was "hazy").
In essence, there are a great deal of rumors that should be dispelled. Some claim (Jack Gee Jr, Bessie Smith's adopted son) that when the ambulances arrived, someone at the scene suggested the ambulances take the other white couple to the hospital first. Another claim is that Dr. Smith refused to transport Bessie in his own car for fear of it "getting too bloody." All of this is easily dispelled. First, only the hearse driven by Willie George Miller would have taken Bessie anywhere. The ambulance would have transported the white couple, and the hearse Miss Smith.  Therefore, it was not a matter of who would be taken first. As far as Dr. Smith's car goes, at one point, he did attempt to clean his car out and ready it for transport, but then the second accident happened. Another argument, made by Dr. W.H. Brandon who signed Bessie's death certificate, claimed that her driver, Morgan was "…very drunk". This is also untrue, as other witnesses at the scene, including Dr. Smith, said Morgan appeared to be completely sober.
So what really happened? When Dr. Smith was evaluating Bessie, he had his fishing buddy, Broughton, run to a nearby house to call for help.  He returned to the scene 25 minutes later. By this time, Bessie was in shock. With no signs of ambulances coming quite some time later, Dr. Smith and Broughton decided to take Dr. Smith's car. Before they could get the back seat cleared out, the other car crashed into it. Then the two ambulances arrived. Willie was in the hearse, responding to the call from Broughton; a regular ambulance arrived based on the tip given by the truck driver who had fled the scene (he did not know the race of the accident victims). Bessie was promptly driven directly to the black hospital by Willie George Miller. She most likely was close to death and unconscious, before ever reaching the hospital. By the time she arrived at the hospital, it was around 11:00 AM. An amputation of her right arm was performed. She was treated, and pronounced dead at 11:30 AM. Dr. Smith would later say Bessie would have died from her injuries even if the accident happened outside the city hospital. They were simply that severe.
So who do you blame for her death? Dr. Smith did all he could. The hospital, though perhaps not as well equipped as the white hospital, did all it could. The doctors did all they could, amputating her arm in an attempt to save her life. Morgan, her driver, tried to avoid the accident, and was apparently sober. The hearse driver did his job. The truck driver who fled the scene, did actually go for help (on a side note, any vehicle carrying US Mail cannot be stopped or delayed).
Who killed Bessie Smith? A freak accident. Yet, in truth, she will always live on through her music. According to the Chicago Defender, as she lay by the highway bleeding and gasping for air, she smilingly told the onlookers she was sure she would make her gig later that night.  Though this is obviously untrue, it does capture her unwavering spirit.
Rest in peace, Bessie Smith.  You are missed.