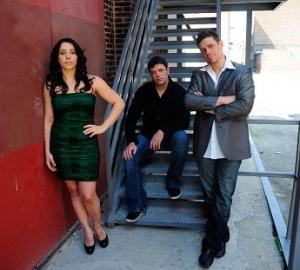 We recently got to sit down and chat with Danielle Schnebelen of Trampled Under Foot.  The Kansas City-based Trampled has been creating a huge buzz in the blues for years. Danielle talked with us about growing up in a blues household, being a woman in the blues, an exciting upcoming All-Diva festival, the incredible Kansas City blues community, and heading back to the studio for a brand new album!
How did you come up in this? How did you start playing bass?
Well I started out singing. My family, we're musicians, and they played blues and classic rock a lot through the 80s. So I grew up listening to Muddy Waters and Led Zeppelin a lot, and just kind of got into music that way, through my parents. The first blues song I ever sang was a Koko Taylor tune, and I was about twelve years old. And from there, I was playing with our parents and got into doing that, and I didn't start playing bass until we decided that TUF was going to form, which was myself and my two older brothers, and in order to keep it a family band, Nick had been already been playing guitar for years, Kris had been playing drums for years, so I was like, "what the heck! I'll learn bass and see how it goes!" I ended up just falling in love with it!

And it's really cool, over the last ten years of playing out over the scene with the band, seeing how many more female musicians, and female bass players now that there are. When I first started playing bass I felt like I was the only one out there. Other than Prince's bass player and Jeff Beck's bass player! But just on the local music scene, especially for blues, there just weren't a lot of female bass players out there. Other than pianists and guitarists, there really aren't a lot of female bass players out there.

There really aren't that many female musicians out there, other than guitar and piano players. Horn players, Bass players, and drummers are not a dime a dozen.
I can think of… Cassie Taylor for bass off the top of my head.
Yeah! Well, you know, Ruthie Foster's band is all female, and they're just a bunch of bad to the bone musicians!
Good call! Yes! Ruthie is an incredible artist! So how is it like being a female musician? And I have noticed that these days, there's been a lot more female headliners in the blues! Blueswomen are getting to be coming up in popularity, whereas fifteen years ago, that wasn't as much the case. You didn't see a lot of that.
No you didn't! It is still a man's world to a certain extent. I'm not like, a hardcore feminist or anything, but I totally agree with you. Fifteen years ago, it was Bonnie Raitt and Etta James and Koko Taylor… It was just a handful. And now there's Janiva Magness, and Susan Tedeschi, Ruthie Foster, Shemekia Copeland and Ana Popovic, and there's just so many female artists! And it's just great to see them at festivals. Several years ago, when TUF was doing a lot of festivals, they were like "god it's great to get a female in here, it's just been men all weekend!" And I'm not hearing that as much anymore! I think that's great; that's awesome!
And I think it's coming full circle now that I hear you guys are playing an upcoming festival — Bear Creek Blues Festival in Slater, Missouri, which I hear has an "All Diva" lineup, which is pretty cool!
Yeah! I'm really looking forward to that one! We're going to head out early so that we can have a nice, full day there.
It's great that there's so many female musicians these days that they can actually get away with doing that now!
What I'd really love to see is get a festival together and have an all girl jam at the end!
That would be cool! For the festival promoters who read this, one of them is going to have to do that now! Tell me about the rest of the band for a second, your brother plays incredible slide guitar, and your other brother plays the percussion and sings…
Our brother, Kris, is the drummer and he does an awesome, awesome job on drums and he's been really singing a lot more the past couple years, where as before he wouldn't even do backup! But now he'll sing Johnny Cash's "Folsom Prison" himself, so it's great to see him progress so far in such a short amount of time with that!

Then our oldest brother, Nick, plays guitar and sings and he just shreds it, just kills it. And there's a part of the show where he gets on a steel guitar (it's not a National but it is a dobro,) and he'll hop behind the drum set and he'll do the kick and the high hat and sing at the same time, and he'll do some Johnny Winter and some original stuff, and he'll just do some of the hill country blues. And that's always great to do at festivals in towns like Slater, Missouri and the Bean Blossom Festival in Bean Blossom, Indiana. You'll get into these small towns, in real country & rural areas, and you'll get that old hill blues funk going and it's pretty cool.
It is! I've seen him play that before and it's… really fun to watch!
Yeah! When the breeze is going just right it sends you back to childhood sitting on the porch. It's pretty cool.
All that's missing is a little bit of moonshine somewhere. Tell me about the Kansas City blues scene! You can't hardly talk about the Kansas City Blues and, these days, KC music without you guys being mentioned. That's got to feel pretty good. how's the KC blues scene these days?
It's so awesome! I don't get out to the jams these days as much as I'd love to, and it's not only because I'm on tour but I've got a son. He's only 14 months old, so whenever I'm home it's just all about him.

But the scene itself is just awesome. There's so many musicians, not just that were born here, but have moved to this area, and it's always been a great, great music scene as far as I can remember.

My parents were always active in the jams and benefits, and were really just active in the blues community, so growing up at such a young age, I've had the privilege of watching it for a number of years, and when we go out of town, Kansas City has a well known reputation for the birth of swing and 18th and Vine [Famous Jazz location]… So, when we go out to California or something, when they ask where we're from and we say Kansas City, they'll get excited! "Kansas City! OK, here we go!"

And it's really cool because Kansas City has the talent to back it up! We've got; Samantha Fish is on the rise, and Levee Town is another great act… we've got Lee McBee here, and he's a traditional blues GOD (at least to me anyways), and to have him in this town is just such an honor. It's just awesome!

So, it's great. And any night of the week you can go out and find a great jam that — you know, it's not that they "only let the good musicians" jam by any means, it's just that the jams themselves are such an incredible time! There's all qualities of musicians, from hobbyists to people who are really pursuing a career in it! It's such a diverse music scene, and it's just a great time. We actually host a jam on Wednesdays, and we were off-and-on touring and we got to host last night and it was just an incredible vibe!
Tell me about the big blues society up there! They're doing exciting things!
Kansas City Blues Society!
I hear they've got a great newsletter. Everybody's been talking about their newsletter, in fact.
Yes! They've really been stepping it up the last few years. It's really turned into a more of a magazine rather than just a simple newsletter or pamphlet. They're getting some really great writers in there and a lot more relevant content! They're really tightening it up! Especially over the last 5 years.
You guys got a big break in the IBC win! Now you've gone from that to the cover of blues magazines and nominations for the 2012 Blues Music Awards…
The nominations were really, completely unexpected! I was just talking about that last night. We were in the same categories as acts that we opened up for; like bands we look up to! Like Susan Tedeschi, she's one of my vocal heroes of the modern day. Just to be up with them in the same category, Band of the Year, to be in the running with Tommy Castro, it's really…  it's obviously the highlight of my career so far, and to be regarded as peers is an amazing feeling. Just being recognized is such a great feeling… it's pretty sweet.
Y'all were in some huge company! Derek and Susan were running up and down from the stage all night!
When I saw the categories, because we were nominated for Band of the Year and Bass Player. I looked and said, Tedeschi Trucks is going to win Band of the Year, and they did. And the bass instrumentalist and I said Biscuit Miller is going to take that, and he did! And in that category… I'm up against cats that have been playing longer than I've been alive! So it's been really cool and humbling at the same time!
And at the BMAs, you guys were up on stage playing in front of thousands of these hardcore blues fans too! Right there in the cocktail dresses and the tuxes and everything! Which was really cool! All these big musicians, from Tab Benoit to Tedeschi Trucks were playing. To have you guys among them must have also been a big deal!
Yeah, to get to play on top of it was just icing on the cake! That was just killer. Killer. And that was another unexpected thing, when they asked us to perform, they asked, "would you be willing to do a fifteen minute performance at the Blues Music Awards," and I had to say "huh, let me think about it… YEAH! No, we prefer to just hang — of course we'll do it!"
So you've got Wrong Side of the Blues, which is a really celebrated album. What's next for you guys!?
Well we'll be starting preproduction for our next record, here. We're going to do another record with Johnny Lee Schell at Ultratone Studios out in L.A.

So it's going to be the same team, and it's going to be all new original songs, and we're going to start preproduction for that, I believe in August! So hopefully, we're closing on this! We're hoping to release a new album early next year. We think it's about time. We've got some pretty great tunes under our belt, and it's definitely time for us to do another album. Wrong Side came out last spring, so…
Exciting! I know a lot of people are anxious for new TUF stuff! So do you have any ideas for the direction of this one? 
Without giving too much away, Wrong Side, that was kind of closure for me — I was going through… the songs they speak for themselves, and I was putting a lot of things to rest with my divorce and that relationship gone bad, and so I think that this next album is definitely… some of the songs I've written are a bit more grooving, and it's not that the last songs are sad or anything like that, but It's definitely going to have a lighter feel, but it's going to be part of a harder blues. It'll still be a TUF album! Our sound's not going to change by any means! We're just going to keep it the same direction that we've been going and hopefully it'll be better and we'll keep progressing, keep learning and building upon what we have!
Very cool! So I guess we'll look forward to seeing you at Bear Creek in Slater, Missouri on June 30th!
Its' going to be a great time! I'm really looking forward to being in such great female company, with Cee Cee James, Sharon Lewis… and  I might have to see if we can work some all-girl jam at the end of our set! Maybe we can get some of the other girls up! We'll see!
Well you just called them out, so they had better now!
Come on with it!!