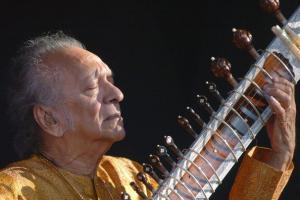 NEW DELHI — Ravi Shankar, the sitar playing virtuoso who became a  musical icon of the 1960s after hanging out with the Beatles and who introduced traditional Indian ragas to Western audiences while playing for eight decades has died at the age of 92.
His death was confirmed by the prime minister's office  calling him a "national treasure."
George Harrison of the Beatles, called him "the godfather of world music" and drew major inspiration from Shankar, who  helped millions of classical, jazz and rock lovers discover the centuries-old traditions of Indian music.
He also pioneered the concept of the rock benefit with the 1971 Concert For Bangladesh. To later generations, he was known as the estranged father of popular American singer Norah Jones.  Also in 1971, moved by the plight of millions of refugees fleeing into India to escape the war in Bangladesh, Shankar reached out to Harrison to see what they could do to help.