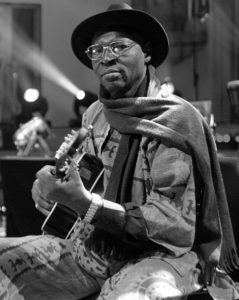 In a story American Blues Scene reported earlier, the wonderful music of Mali had been silenced by radical Islamists who had initiated barbaric rules and laws over this land and in the process left them in silence. They have spent the last 10 months trying to remember what music sounds like. Can you imagine even a day without music, much less 10 months? Music has always been such huge part of the Malian culture and their sounds have inspired fellow musicians worldwide. The great Ali Farka Toure (pictured on the left) appeared in Martin Scorsese Presents The Blues: A Musical Journey.
Singer Fatoumata Diawara told Channel 4 News from Paris:
"For Malian people, that's really hard for us. Music is everywhere for us. When I was there for one month last year, it was really sad. Everyone was giving up, saying it's finished."
We couldn't be happier than to tell you that it is over, at least for now. Music is king! Mali is no longer forced to live in silence.
Mousetrap Ben Essayati in an interview with Channel 4 explained:
"We have just spent 10 months in hell. Everything that demarcates the liberty of man was forbidden to us. We couldn't smoke, we couldn't listen to music, we couldn't wear the clothes we wanted to wear."
But even now that music can once again be heard on Mali's streets, and the land is taken back, there are questions and fears that remain. In a country where music is its greatest export, nightclubs were torn down, radios banned and musicians forbidden to play. Khaira Arby, known as the "nightingale of the north", fled south to the capital Bamako after being told her tongue would be cut out if she continued to sing. The guitarist of the Tuareg band Tinariwen was also captured in early January, and later released. Other musicians have been threatened as well and festivals cancelled leaving Mali's cultural future in limbo. But for now, they will rejoice and sing. For they can now once again listen to and play music.