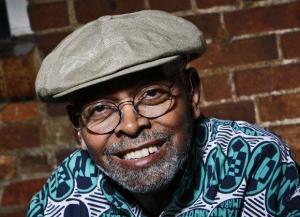 NEW YORK (AP) — Amiri Baraka, the militant man of letters and tireless agitator whose blues-based, fist-shaking poems, plays and criticism made him a provocative and groundbreaking force in American culture, has died. He was 79.
His booking agent, Celeste Bateman, told The Associated Press that Baraka, who had been hospitalized since last month, died Thursday at Newark Beth Israel Medical Center.
Perhaps no writer of the 1960s and '70s was more radical or polarizing than the former LeRoi Jones, and no one did more to extend the political debates of the civil rights era to the world of the arts. He inspired at least one generation of poets, playwrights and musicians, and his immersion in spoken word traditions and raw street language anticipated rap, hip-hop and slam poetry. The FBI feared him to the point of flattery, identifying Baraka as "the person who will probably emerge as the leader of the Pan-African movement in the United States."
Baraka transformed from the rare black to join the Beat caravan of Allen Ginsberg and Jack Kerouac to leader of the Black Arts Movement, an ally of the Black Power movement that rejected the liberal optimism of the early '60s and intensified a divide over how and whether the black artist should take on social issues. Scorning art for art's sake and the pursuit of black-white unity, Baraka was part of a philosophy that called for the teaching of black art and history and producing works that bluntly called for revolution.
"We want 'poems that kill,'" Baraka wrote in his landmark "Black Art," a manifesto published in 1965, the year he helped found the Black Arts Movement. "Assassin poems. Poems that shoot guns/Poems that wrestle cops into alleys/and take their weapons leaving them dead/with tongues pulled out and sent to Ireland."
He was as eclectic as he was prolific: His influences ranged from Ray Bradbury and Mao Zedong to Ginsberg and John Coltrane. Baraka wrote poems, short stories, novels, essays, plays, musical and cultural criticism and jazz operas. His 1963 book, Blues People: Negro Music in White America, has been called the first major history of black music to be written by an African-American. A line from his poem "Black People!" — "Up against the wall mother f—–" — became a counterculture slogan for everyone from student protesters to the rock band Jefferson Airplane. A 2002 poem he wrote alleging that some Israelis had advance knowledge of the Sept. 11 attacks led to widespread outrage.
Decades earlier, Baraka had declared himself a black nationalist out to "break the deathly grip of the White Eyes," then a Marxist-Leninist out to destroy imperialists of all colors. No matter his name or ideology, he was committed to "struggle, change, struggle, unity, change, movement."
"All of the oaths I swore were sincere reflections of what I felt — what I thought I knew and understood," he wrote in a 1990 essay. "But those beliefs change, and the work shows this, too."
He was denounced by critics as buffoonish, homophobic, anti-Semitic, a demagogue. He was called by others a genius, a prophet, the Malcolm X of literature. Eldridge Cleaver hailed him as the bard of the "funky facts." Ishmael Reed credited the Black Arts Movement for encouraging artists of all backgrounds and enabling the rise of multiculturalism. The scholar Arnold Rampersad placed him alongside Frederick Douglass and Richard Wright in the pantheon of black cultural influences.
"From Amiri Baraka, I learned that all art is political, although I don't write political plays," the Pulitzer Prize-winning dramatist August Wilson once said.
First published in the 1950s, Baraka crashed the literary party in 1964, at the Cherry Lane Theater in Greenwich Village, when "Dutchman" opened and made instant history at the height of the civil rights movement. Baraka's play was a one-act showdown between a middle class black man, Clay, and a sexually daring white woman, Lula, ending in a brawl of murderous taunts and confessions.
"Charlie Parker. All the hip white boys scream for Bird," Clay says. "And they sit there talking about the tortured genius of Charlie Parker. Bird would've not played a note of music if he just walked up to East 67th Street and killed the first 10 white people he saw. Not a note!"
Less than a year after the March on Washington, Baraka pronounced the dream dead, a delusion. The war of words commenced. The Village Voice gave it an Obie award for the top off-Broadway show. Norman Mailer called it the "best play in America." Jean-Luc Godard lifted some dialogue for his film "Masculin Feminine." New York Times critic Howard Taubman was impressed, and, apparently, terrified.
"If this is the way the Negroes really feel about the white world around them, there's more rancor buried in the breasts of colored conformists than anyone can imagine," Taubman wrote in his review.
When Philip Roth, writing for The New York Review of Books, criticized the character development in "Dutchman," the playwright answered: "Sir, it is not my fault that you are so feeble-minded you refuse to see any Negro as a man, but rather as the narrow product of your own sterile response."
Baraka was still LeRoi Jones when he wrote "Dutchman." But the Cuban revolution, the assassination in 1965 of Malcolm X and the Newark riots of 1967, when the poet was jailed and photographed looking dazed and bloodied, radicalized him. Jones left his white wife (Hettie Cohen), cut off his white friends and moved from Greenwich Village to Harlem. He renamed himself Imamu Ameer Baraka, "spiritual leader blessed prince," and dismissed the Rev. Martin Luther King Jr. as a "brainwashed Negro." He helped organize the 1972 National Black Political Convention and founded the Congress of African People. He also founded community groups in Harlem and Newark, the hometown to which he eventually returned.
The revolution, Baraka believed, would be set to music. In "Blues People," he traced the role of blues and jazz as forces of nonconformity in American culture from slavery days to the present. In essays and interviews, he supported such jazz artists as Sun Ra, Albert Ayler and Archie Shepp, chastised Sly and the Family Stone for including whites in the band and scorned the Beatles as "a group of middle-class white boys who need a haircut and male hormones." He welcomed rap as "mass-based poetry," but worried that corporate power was turning performers away from the mission of "struggle and democracy and political consciousness."
The Black Arts Movement was essentially over by the mid-1970s, and Baraka distanced himself from some of his harsher comments — about Dr. King, about gays and about whites in general. But he kept making news. In the early 1990s, as Spike Lee was filming a biography of Malcolm X, Baraka ridiculed the director as "a petit bourgeois Negro" unworthy of his subject. In 2002, respected enough to be named New Jersey's poet laureate, he shocked again with "Somebody Blew Up America," a Sept. 11 poem with a jarring twist.
"Who knew the World Trade Center was gonna get bombed," read a line from the poem. "Who told 4,000 Israeli workers at the Twin Towers to stay home that day?"
Then-Gov. James E. McGreevey and others demanded his resignation. Baraka refused, denying that "Somebody Blew Up" was anti-Semitic (the poem also attacks Hitler and the Holocaust) and condemning the "dishonest, consciously distorted and insulting non-interpretation of my poem." Discovering he couldn't be fired, the state eliminated the position altogether, in 2003.
Baraka was born Everett LeRoy Jones in 1934, a postal worker's son who grew up in a racially mixed neighborhood in Newark and remembered his family's passion for songs and storytelling. He showed early talents for sports and music and did well enough in high school to graduate with honors and receive a scholarship from Rutgers University.
Feeling out of place at Rutgers, he transferred to a leading black college, Howard University. He hated it there ("Howard University shocked me into realizing how desperately sick the Negro could be," he later wrote) and joined the Air Force, from which he was discharged for having too many books, among other transgressions. By 1958, he had settled in Greenwich Village, met Ginsberg and other Beats, married fellow writer Cohen and was editing an avant-garde journal, Yugen. He called himself LeRoi Jones.
He was never meant to write like other writers. In his "Autobiography of LeRoi Jones/Amiri Baraka," published in 1984, he remembered himself as a young man, sitting on a bench, reading "one of the carefully put together exercises The New Yorker publishes constantly as high poetic art."
And he was in tears.
"I realized that there was something in me so out, so unconnected with what this writer was and what this magazine was that what was in me that wanted to come out as poetry would never come out like that and be my poetry," he wrote.
Baraka's many works included the poetry collections "Black Magic" and "Preface to a Twenty Volume Suicide Note," the plays "Slave Ship" and "Arm Yourself or Harm Yourself," and a novel, "The System of Dante's Hell." Admittedly a hard man to work with, he wrote for numerous publishers and published some books himself.
"He opened tightly guarded doors for not only Blacks but poor whites as well and, of course, Native Americans, Latinos and Asian Americans," the American Indian author Maurice Kenny wrote of him. "We'd all still be waiting for the invitation from The New Yorker without him. He taught us all how to claim it and take it."
Baraka divorced Cohen in 1965 and a year later married Sylvia Robinson, whose name became Bibi Amina Baraka. He had seven children, two with his first wife and five with his second. A son, Ras Baraka, became a councilman in Newark and is running for mayor of that city. A daughter, Shani Baraka, was murdered in 2003 by the estranged husband of her sister, Wanda Pasha.
Amiri Baraka taught at Yale University and George Washington University and spent 20 years on the faculty of the State University of New York in Stonybrook. He received numerous grants and prizes, including a Guggenheim fellowship and a poetry award from the National Endowment for the Arts.
Baraka was the subject of a 1983 documentary, "In Motion," and holds a minor place in Hollywood history. In "Bulworth," Warren Beatty's 1998 satire about a senator's break from the political establishment, Baraka plays a homeless poet who cheers on the title character.
"You got to be a spirit," the poet tells him. "You got to sing — don't be no ghost."