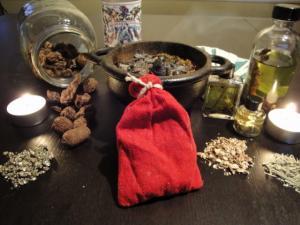 This is the latest installment of our weekly series, The Language of the Blues, in which author/rocker Debra Devi explores the meaning of a word or phrase found in the blues.
To learn much more about what your favorite blues songs really mean, grab a signed copy of Devi's award-winning book The Language of the Blues: From Alcorub to ZuZu (Foreword by Dr. John) at Bluescentric.com. "One of the wittiest, bawdiest, most fascinating dictionaries ever." (Reuters)
FIX
A mojo is a bag with items inside it that can ward off evil spirits and curses, or affect someone's behavior. For it to work, though, a hoodoo practitioner has to lure a spirit into the bag and then "fix" the mojo by anointing it with oils, saying words over it, etc. so the spirit won't leave and will give the mojo the power to carry out its task.
A mojo can be used to "fix" another person; in this case, the word fix means to have an effect on the person's behavior. A woman can use a mojo to "fix" a man so that he can't make love to any other woman, for instance. In "Me and My Whiskey," Barbecue Bob (Robert Hicks) warned:
Don't let your gal fix you, like my gal fixed me
She made me love her, now she's way down in Tennessee
A person who has been hoodoo'ed like this would be "in a fix," and would have to consult a root doctor to find a way out.
By the 1950s, mojo was also sometimes used to refer to narcotics. This led to the use of "fix" by heroin addicts to refer to a shot of dope that would prevent them from going into withdrawal.
Songs:
"Alimony Blues"- Eddie "Cleanhead" Vinson, recorded by T-Bone Walker (Aaron Thibeaux Walker)
"Me and My Whiskey"- Barbecue Bob (Robert Hicks)
"Bad Luck Situation"- Johnny Winter
Video:
T-Bone Walker – "Alimony Blues"