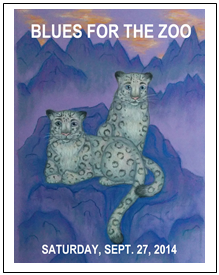 (BIG BEAR LAKE, CA) — Get ready to hear powerful blues in an amazingly scenic Southern California location to benefit the Big Bear Alpine Zoo. Saturday, September 27, 2014 the Swim Beach Outdoor Amphitheater will host Blues for the Zoo with a line-up of world class musicians.
Headlining the day of music will be the Otis Taylor Band, a talent described by the Los Angeles Times as "blending the austerity of Delta blues with the expansiveness of free jazz… ancient-sounding, avant-garde, trance blues." Sometimes compared to John Lee Hooker, Taylor is also an intriguing songwriter, creating material that explores the African-American experience. Janiva Magness, an incendiary vocalist who delivers scorching intensity with a dose of personal introspection, is also on the bill. Magness has been honored with 22 Blues Music Awards, from The Blues Foundation in Memphis, including four wins as Contemporary Blues Female Artist of the Year. Opening the festival is Bonne Musique Zydeco, specializing in traditional (and danceable) music from the Louisiana Bayou. Handmade arts and crafts on display and for sale will include pottery, sea-glass jewelry, photography, paintings, textiles, bath scents and more.
Tickets are now on sale, and are $30 in advance or $35 on day of show. Children 10 and under are admitted free of charge. Parking on site is just $4. Tickets are available at Blues for the Zoo's official website or the Big Bear Chamber of Commerce, 630 Bartlett Road in Big Bear Lake, California. Music runs from 1:00pm to 5:00pm, with gates opening at 11:00 am. Beach chairs and blankets are welcome for festival-style lawn seating. Blues for the Zoo's lakeside setting provides a scenic backdrop for an afternoon of live music, local artisan booths and a freshly prepared food and beverage menu. No coolers or pets please. Lodging/Ticket Packages are available by calling 1-800-4BIG BEAR.
Big Bear Lake is a family-friendly mountain community, known for 300 days of annual sunshine, clean air and resort amenities. The area offers many outdoor activities including; forest hikes, boating, fishing, kayaking, water skiing, biking trails and horseback riding.
Friends of the Big Bear Alpine Zoo, promoters of the concert, is a nonprofit organization formed to support this wildlife sanctuary through fundraising, volunteer coordination and educating the public on wildlife conservation. The Big Bear Alpine Zoo is distinguished as the only zoological facility in the United States located in an Alpine environment, dedicated to the preservation of its indigenous species. The park is a licensed, designated care and rehabilitation facility for injured and confiscated animals. The park also provides a "Home For Life" to over 180 animals representing 85 species.