Editor's note: Please welcome the newest addition to American Blues Scene online: "This Week in Blues Past"! You asked for a weekly summary of our daily blues history on Facebook and we listened! Come visit each Monday, where we will be listing the top ten events in blues history in chronological order.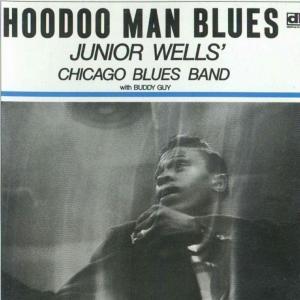 1. Hoodoo Man Blues
September 22nd, 1965: Junior Wells, with The Chicago Blues Band, which was made up of Wells, drummer Bill Warren, bassist Jack Myers and guitarist Buddy Guy began recording the album Hoodoo Man Blues for the Delmark label. Due to contractual issues with Chess Records, Buddy Guy was originally listed on the album under the name, "Friendly Chap". The 14 song album, which included 2 alternate takes, was recorded over two days and went on to become Delmark's best selling release and is acknowledged as one of the greatest Blues albums ever released. It has been inducted into the Blues Hall of Fame and Grammy Hall of Fame, and was later re-released as an expanded album with 14 additional tracks of alternate takes and studio chatter.
2. Roy Buchanan
September 23rd, 1939: Pioneer of the Telecaster sound, Roy Buchanan was born in Ozark, Arkansas. He began his professional career at age 15, playing guitar in Johnny Otis' band. In 1958, Buchanan made his recording debut with Dale Hawkins, including playing the solo on "My Babe" for Chess Records. Two years later, during a tour through Toronto, Buchanan left Dale Hawkins to play for his cousin Ronnie Hawkins and tutor Ronnie's guitar player, Robbie Robertson. Buchanan plays bass on the Ronnie Hawkins single, "Who Do You Love?". During the 60s, Buchanan made a name for himself as a sideman, playing the tones with just his hands and his 1953 Telecaster that Jimi Hendrix would later recreate with the use of "wah wah" pedals. Buchanan went on to record several solo albums and was acknowledged as "the best unknown guitarist in the world" until he was found hanged from his own shirt in a jail cell in Fairfax County, Virginia on August 14th, 1988.
3. Calvin Frazier
September 23rd, 1972: Singer and slide guitarist, Calvin Frazier died of cancer in Detroit, Michigan at the age of 57. Frazier was born in Osceola, Arkansas and was a friend and traveling companion of both Johnny Shines and Robert Johnson. He played with both these artists as well as Big Maceo Merriweather, Sonny Boy Williamson II and Baby Boy Warren before being recorded in 1938 by the folklorist Alan Lomax for the Library of Congress. Besides his solo recording he is also known to have recorded with artists such as Alberta Adams, Sampson Pittman, T. J. Fowler, Jimmy Milner and Boogie Woogie Red, with his last recordings being with Washboard Willie.
4. Blind Lemon Jefferson
September 24th, 1893: "Blind" Lemon Jefferson was born in Coutchman, Texas. Blind since birth, Jefferson took up guitar in his early teens and performed at picnics, parties and on street corners. Jefferson moved to the Deep Ellem area of Dallas, Texas where he played with Leadbelly and taught T-Bone Walker the basics of blues guitar, in exchange for Walker's occasional services as a guide. His recording career began in early 1926 when he was taken to Chicago to record for the Paramount label. He recorded around 100 sides from 1926 to 1929 including his most famous songs, "Black Snake Moan", "Matchbox Blues" and "See That My Grave is Kept Clean". Jefferson died in Chicago on December 19th, 1929 of acute myocarditis at the age of 36, although rumors persist of his demise from a jealous lover had poisoning his coffee, but a more likely scenario is that he died of a heart attack after becoming disoriented during a snowstorm. Some have said that Jefferson died from a heart attack after being attacked by a dog in the middle of the night. More recently, the book, Tolbert's Texas, claimed that he was killed while being robbed of a large royalty payment by a guide escorting him to Union Station to catch a train home to Texas. Jefferson is known as the "Father of the Texas Blues" and among the inaugural class of Blues musicians inducted into the Blues Hall of Fame in 1980.
5. Otis Spann
September 24th, 1953: Otis Spann replaced Big Maceo Merriweather as Muddy Waters' piano player and participated in his first recording session with the band. He continued to record as a solo artist and session man with other musicians, including Bo Diddley and Howlin' Wolf during his tenure with the group, but stayed with Waters until 1968. Spann also recorded with BB King, James Cotton, Big Walter Horton, Robert Lockwood, Jr., Eric Clapton, Buddy Guy, Big Mama Thornton, Peter Green, and Fleetwood Mac before his death in 1970. He was posthumously inducted into the Blues Hall of Fame in 1980.
6. Buddy Guy
September 25th, 1957: A 21 year old guitarist from Lettsworth, Louisiana, George "Buddy" Guy arrived in Chicago, Illinois and almost immediately fell under the influence of Muddy Waters. A year later, a competition with West Side guitarists Magic Sam and Otis Rush won Guy a record contract and soon afterwards he released two singles on Cobra's Artistic Records subsidiary. His next released recordings were backing Junior Wells on the Delmark label in 1965 and 1966. And the rest, as they say, is history.
7. Bessie Smith
September 26th, 1937: "Empress of the Blues", Bessie Smith, was critically injured in a car accident while traveling along U.S. 61 between Memphis, Tennessee, and Clarksdale, Mississippi. Richard Morgan was driving and misjudged the speed of a slow-moving truck ahead of him. Tire marks at the scene suggested that Morgan tried to avoid the truck by driving around its left side, but he hit the rear of the truck side-on at high speed. The tailgate of the truck sheared off the wooden roof of Smith's old Packard. Smith, who was in the passenger seat, probably with her right arm or elbow out the window, took the full brunt of the impact. Approximately an hour after the crash, two ambulances arrived on the scene from Clarksdale; one from the black hospital, the other from the white hospital, acting on a report from the truck driver, who had not seen the accident victims. Smith was taken to Clarksdale's G. T. Thomas Afro-American Hospital, where her right arm was amputated. She died that morning without regaining consciousness.
8. Arthur "Big Boy" Crudup
September 26th, 2008: A Mississippi Blues Trail Marker was established in Forest, Mississippi to honor Blues legend, Arthur "Big Boy" Crudup. Crudup, who was one of the most prominent Blues recording artists of the 1940s was born on his grandparents' land in Forest on August 24th, 1905. After Elvis Presley recorded three Crudup songs in the 1950s, "That's All Right," "My Baby Left Me," and "So Glad You're Mine", Crudup became known as "The Father of Rock 'n' Roll." Despite the commercial success of his songs, Crudup was never fairly paid for the music he composed and recorded, and had to work as a laborer or bus driver to support his family. Other Pop and Rock stars including Elton John and Rod Stewart also recorded his songs and it wasn't until after his death in 1974 that his family finally succeeded in securing his copyrights and long-overdue royalties.
9. Memphis Blues
September 27th, 1912: W. C. Handy published the song, "The Memphis Blues". The song is said to be based on a campaign song written by Handy for Edward Crump, a mayoral candidate in Memphis, Tennessee in 1909. It was first recorded by the Victor Military Band on July 15th, 1914 and has been recorded by artists including Harry James, Duke Ellington and Nat King Cole.
10. Koko Taylor
September 28th, 1928: Koko Taylor was born Cora Walton in Shelby County, Tennessee. She moved to Chicago in 1952 and by the end of the decade, she was singing in the Blues clubs of that city. She was spotted by Willie Dixon in 1962 and by 1965 had a recording contract with Checker Records for whom she recorded her first hit, "Wang Dang Doodle". Throughout her career she released 17 albums, 8 of which were Grammy nominated. She won 25 Blues Music Awards (more than any other artist) as was inducted into the Blues Hall of Fame in 1997. Taylor influenced other Blues musicians such as Bonnie Raitt, Shemekia Copeland, Janis Joplin, Shannon Curfman, and Susan Tedeschi and won a Grammy Award for Best Traditional Blues Album in 1985. Taylor's final performance was at the Blues Music Awards, on May 7th, 2009 and a month later she died from complications of gastrointestinal surgery.