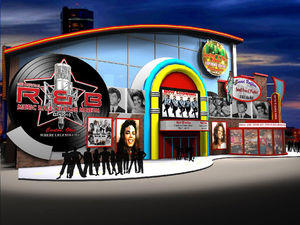 (CLARKSDALE, MS.) — The Official Rhythm and Blues Music Hall of Fame will be in Clarksdale, says founder and CEO LaMont Robinson.
Robinson announced the decision Friday at Morgan Freeman's Ground Zero Blues Club, The Clarksdale Press-Register reports. Detroit, Memphis, Nashville, Tennessee and Jackson also had been named as potential locations.
"Clarksdale is the perfect home for this project," Robinson said. "This area has been so important to the history of American music and global music culture that we felt this was the best place to enshrine and honor the legends of R&B. Delta Blues became Rhythm & Blues, and we are proud to be bringing our Museum and Hall of Fame to Clarksdale. This is where it all began."
City officials are thrilled, Mayor Bill Luckett said in a phone interview Sunday with The Associated Press. "We're going to get busy getting all the details hammered out in the next few weeks."
The museum will be in a city-owned art deco building that used to be a Greyhound bus depot, he said.
"That makes it a lot easier in terms of finding a home for the museum," Luckett said. "It's sort of museum-ready."
A couple of local boards including Clarkesdale Revitalization have been holding meetings there but it has no fulltime use just now, he said.
Robinson has said the museum will also be home to the National Blues Center and the National Gospel Hall of Fame.