This is the latest from The Bluesmobile's C.C. Rider, who spends her life venerating the founding fathers of the blues. She's walked the crooked highways of this singing country to resurrect the voices of the past. With the dirt of the Delta on her hands, she sleeps in the shadow of the giants on whose shoulders popular music now stands.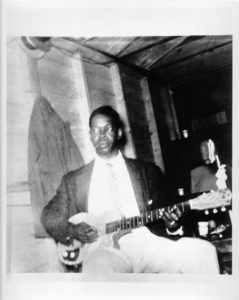 Elmore James
(January 27, 1918 – May 24, 1963)
As a kid, Elmore James taught himself to play guitar by stringing up a broom wire on the side of his house. Fitting, that a broom wire would be the origin of what some say is the most recognizable lick in the blues.
See, Elmore wasn't content to stick to his acoustic roots. Fresh out of the Navy, he was working at his brother's radio repair shop when he tinkered around with electronics. Enabled him to come up with some wild, distorted amplification unheard of back then. Pair that with his unmatched slide technique, some primal vocals, and you've got a legend on your hands.
Elmore laid the foundation for blues rock shredders. In the early '60s, another young guitar playing veteran took the stage name "Jimmy James" as a tribute to his idol Elmore James. Oh yeah, Jimi went back to his real name—Hendrix—but even as he gained his own fame, he made a point to be photographed with Elmore James LP's so folks would know who he learned from.
Let's learn a little something from Elmore too. Here's the King of the Slide Guitar, Elmore James with his take on Robert Johnson's "Dust My Broom."