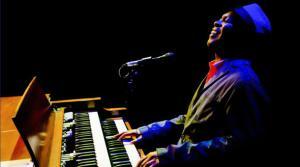 (CHICAGO, IL) – Award-winning Rock-and-Roll Hall of Famer Booker T Jones is headlining Buddy Guy's Legends Blues Fest on Saturday, June 13th at 10:30pm. Tickets are on sale now.
Booker T Jones was a pioneer of soul music and a key part of the classic Stax Records sound. He first came to prominence in the 1960s with hits like "Green Onions," "Time is Tight" and "Melting Pot," recorded with his band Booker T & The MGs. He's been going strong ever since. He's been especially successful in recent years, winning GRAMMY awards in 2010 and 2012 for collaborations with The Drive-By Truckers and The Roots. Like Buddy Guy, he's a rarity: the recipient of a Lifetime Achievement Award from the GRAMMY foundation, a Rock-and-Roll Hall of Fame inductee, Musicians Hall of Fame inductee, and generally a living legend who remains a vital force in contemporary music.
Booker T will be the highlight of four days of non-stop blues bands playing Buddy Guy's Legends from June 11th-14th. Fans are especially excited because Buddy Guy is headlining the Chicago Blues Fest earlier the same night and has already announced plans to return to Legends afterwards to catch Booker's performance.
Here's the full lineup for the weekend:
Thursday 06/11
2pm: Blues Today
6pm: XRT Live Broadcast
9:30pm: John Primer
Friday 06/12
12pm: Fruteland Jackson
2:30pm: Austin Walkin Cane
4:30pm: Sheryl Youngblood
6:30pm: Corey Dennison
8:30pm: Linsey Alexander
10:30pm: Eddy Clearwater
Saturday 06/13
11:30am: Anthony Moser
1pm: Dave Weld
3pm: Billy Flynn
5pm: Nu Blu Band
7pm: Matthew Skoller
9pm: Cash McCall
10:30pm Booker T. Jones
Sunday 06/14
11am: Nicholas Barron
1pm: Chris Antonik
3pm: Kate Moss & Smiley Tillmon
5pm: Guy King
7pm: Mike Wheeler
9pm: Billy Branch