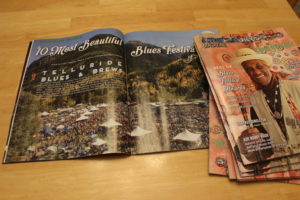 American Blues Scene Magazine's latest issue presents the first Best of the Blues Festivals edition, with categories including the Ten Most Beautiful Blues Festivals, Five Best New Festival, and Four Most Offbeat Festivals. Among over one hundred entries, a total of nineteen festivals won in the three awards categories.
The upcoming Telluride Blues and Brews Festival, situated in an amazing, lush mountain atmosphere snagged the coveted first position in Most Beautiful Festival, earning a powerful, picturesque two-page spread. Also nestled in Colorado's mountains was Blues From the Top Festival, which was awarded the second coveted place. Southern California's famed beachside Doheny Blues Fest achieved the #3 position.
The rest of the winners can be found in American Blues Scene's latest issue.
In the Best New Festivals category, Greenville, Mississippi's Mighty Mississippi Music Festival took the first place position. In a park on the Big Muddy river itself, the rapidly growing MMMF is just one of several prominent festivals happening during the two week, three-state wide Mississippi delta-area Bridging the Blues event. Also winning a coveted position was the popular Big Blues Bender in Las Vegas, which is quickly becoming a favorite for blues fans. Since September, more fans have written to the magazine about Bender than any other blues fest.
In the Four Offbeat Festivals You Gotta Know, the Johnny Shines Blues Festival was awarded the first-place prize. Put on by Shines' daughter at his former house, on a street named after him, the casual block-party atmosphere and unique event honoring the revered bluesman is one of the coolest hidden gems in the blues. Second was Louisiana's T-Bois Blues Festival, the bluesy down-home cajun answer to Burning Man. Following in the #3 place is the incredibly popular Juke Joint Festival, the unofficial kickoff to festival season in "ground zero of the blues", Clarksdale, Mississippi. The festival is loaded with intimate front-porch stages and buskers showcasing the best in real delta blues, as well as monkeys riding on dogs chasing pigs. It's a delta thing — and that's why thousands of fans  annually travel to the vast plains of the delta to take part in the unmatchable atmosphere and incredible southern charm and warmth.
A complete list of the winners can be found in the latest issue, which can be purchased individually here. Blues fans can subscribe to the popular, growing blues magazine here. American Blues Scene has long been the most popular verified blues music website in the world, and its full-color, glossy magazine with vivid, high resolution two-page spreads and fun, exciting content, including an advice column from BMA Entertainer of the Year Bobby Rush, has quickly earned a stellar reputation in the blues community.