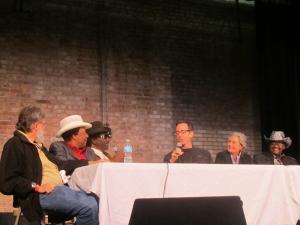 (Helena, Arkansas) — What is it about the Delta that gave rise to America's music, the blues? Artists, journalists and presenters will discuss the special magic that defines the King Biscuit Blues Festival and inspires the world's music at the Fifth Annual Call and Response Blues Symposium, a featured event of the 30th annual King Biscuit Blues Festival. "Memphis is blues, but this is it," says singer/songwriter Reba Russell about The Biscuit, America's foremost showcase of authentic blues at the Call and Response Blues Symposium that begins at noon on Saturday, October 10 at the Malco Theater on Cherry St. "This is the freaking deal. It's like are you kidding me? I totally think there is something that rises up from that river and that dirt there. I think that the ancestry, the ghost, everything remains there."
Joining Reba in the first of two hour-long sessions is Jackson, Mississippi native and Blind Pig recording artist Zac Harmon who is on a mission "to bring the moniker of the blues back to Mississippi because I think that Mississippi has gotten the short end of the stick when it comes to the spoils of the blues." Rounding out the first hour are Bubba Sullivan, one of the founders and Godfather of King Biscuit from its inception; Matt Marshall, editor of American blues Scene, the most popular blues website in the world; and moderated by King Biscuit's own veteran blues journalist Don Wilcock.
Roger Stolle, filmmaker, columnist, oft quoted authority on Delta blues and owner of Cat Head Delta Blues & Folk Art in historic Clarksdale, Mississippi, hosts part two of the symposium at 1:15 p.m. with four of the most colorful southern juke joint owners: Red Paden of Red's Lounge in Clarksdale, Willie "Po' Monkey" Seaberry whose juke is in Merigold, Mississippi; Henry "Gip" Gipson of Gip's Place in Bessemer, Alabama; and Teddy Johnson of Teddy's Juke Joint in Zachary, Louisiana.
The fifth annual Call and Response, The Blues Symposium is free to the public thanks to the support of our wonderful sponsor: Economy Drugs.
Part One 12:00 to 1:00 p.m.
Bubba Sullivan
Bubba Sullivan likes to tell people that Robert Lockwood, Jr. carried more history to his grave than any man that ever was. Truth be known? Bubba's in the same category except he's still with us. The historian for the Sonny Boy Blues Society, he's been involved in booking and hosting the King Biscuit Blues Festival since the first one in 1986 when he helped secure an evangelist's trailer as the first stage for $25. He's proprietor of Bubba's Blues Corner, the official record store of the festival that was jump started with the encouragement of ZZ Top's Billy Gibbons.
Zac Harmon
Originally from Jackson, Mississippi, guitarist/organist,/singer/songwriter Zac Harmon was a childhood friend of Sam Myers who embarrassed him as a teenager by stopping him mid-song to tell him the Jimi Hendrix cover he was doing wasn't blues. Zac has written songs for Evelyn "Champagne King, Freddie Jackson and the O'Jays. As an in-demand L.A. session musician, he was booked out three and four years in advance. His just released fifth album Right Man * Right Now on Blind Pig Records features four songs written or co-written by John Hahn, Shemekia Copeland's manager/songwriter, and Zac does a killer scratch vocal cover of John Lee Hooker's "I'm Bad Like Jesse James." The CD mixes old school and new school blues with guest artists Bobby Rush, Lucky Peterson and Anson Funderburgh.
Reba Russell
Reba Russell calls herself "a stepchild of the blues. I don't really run in the mainstream circle." " On "Blues Is Mine," she sings, "I'm not privileged/I'm not rich/But I'm one hell of a bitch." A perennial favorite at the Biscuit, she expresses her love for the festival in "Heaven Came to Helena." In 1992 when Rufus Thomas heard her cover band that had been voted the best in Memphis, he told her, "You got it! Use it! Do it!" She fired the band and never looked back. She's done background vocals for John Nemeth, Tracy Nelson, Huey Lewis & The News, Jimmy Thackery, Jerry Lee Lewis and U2 on "When Love Comes to Town" for Rattle & Hum at Sun Studios. Reba has won three Premiere Vocalist Awards from the Memphis chapter of the National Recording Arts and Sciences. She has eight independent CDs with originals and covers by artists like Willie Dixon, Memphis Minnie, Tracy Nelson, and Walter Trout. Her eighth CD 8 was recorded in four different studios and mixed at Ardent Studios in Memphis for BEB Productions standing for Blue-eyed Bitches Production.
Matt Marshall
Matt Marshall is the editor of American Blue Scene Magazine, the popular and exciting quarterly subscription blues music magazine. The magazine's digital side, with thousands of free articles, is the most popular blues music website in the world, and commands nearly half a million visitors a year. Matt and his staff channel the very heart of the blues community. It's as much about connecting people who love the blues with each other and the musicians as it is about capturing the pulse of the blues community. Whether it's an intimate discussion with blues icon Buddy Guy or being the first to break the story of Johnny Winter's passing, Marshall understands the relationship between contemporary blues culture, the fan and the digital frontier.
Don Wilcock co-moderator, Part One
Award winning editor, writer, film maker and blues society founder Don Wilcock organized the Call and Response Symposium five years ago and is currently working on a coffee table book on The Biscuit with award winning photographer Bob Van Degna. He has interviewed more than 5000 artists in nearly a half century as a music journalist and was writing for Blues World in England before there was an American blues magazine. He is a recipient of the Blues Foundation's Keeping The Blues Alive in Print Journalism Award, writes for The American Blues Scene and is a weekly music columnist for two dailies in New York's Capital Region. He is the author of the 1991 authorized biography of Buddy Guy Damn Right I've Got The Blues that set the stage for Guy's multi-Grammy-winning career surge.
Part Two 1:15 to 2:15 p.m.
Red Paden
Sixty-something Big Red has operated his quasi-legal Red's Lounge in Clarksdale, Mississippi, for more than three decades, but he's been in the juke-running business for most of his life. Through the years, bluesmen like Robert Belfour, "T-Model" Ford and "Big Jack" Johnson have graced Red's carpet-remnant stage on weekends while locals, tourists and notables like Robert Plant, Tom Waits, Samuel L. Jackson and Steven Seagal listened, bathed in red light. Customers are treated to sayings like: "The game's for life." "I'm backed by the river, fronted by the grave." And, "I kill for fun." Red's has been much celebrated — from the LA Times to We Juke Up in Here!
Willie "Po' Monkey" Seaberry
In 1963, Mr. Seaberry opened his juke (which doubles as his home) in a cotton field near Merigold, Mississippi. Now in his mid-70s, he still drives a tractor on the land, and his weekly Thursday parties night have become legendary. As a deejay spins discs, a mix of regulars and tourists drink, dance and shoot pool. The host parades through the crowd in colorful zoot suits, often wearing humorous two-sided placards. Occasionally, a nearby university books live blues there on off-nights. Signs on the exterior tell visitors to pull up their pants among other helpful hints, making the juke a photographer favorite. It's appeared in countless publications.
Henry "Gip" Gipson
Ninety-something Gip Gipson is a gravedigger, blues musician and juke runner. His Gip's Place in Bessemer, Alabama, nearly defies description. "The place is almost frightening in the daytime," noted one long-time regular in a recent article. "At night, though, it's pure magic." The juke opened in 1952 in what is now a large, residential neighborhood. His Saturday night blues parties are the stuff of legend with everyone from Willie King to Bobby Rush performing. In recent years, area law enforcement has raided his establishment, and local politicians have attempted to shut it down. But Gip's is still there (though now BYOB), and its owner is beloved by his fans.
Teddy "Lloyd" Johnson
Teddy's Juke Joint in Zachary, Louisiana, opened for business 36 years ago, but not the building. The building — once a simple shotgun shack — was Teddy Johnson's family home. In fact, he was born in it 69 years ago. Through the years he's added on to the structure, so now the colorfully-decorated juke includes a long wooden bar, deejay booth, performance stage and soul food kitchen. Mr. Teddy's wife Nancy handles the food while family members and friends help out behind the bar (which features a liquor license — a rarity in a juke joint!). In addition to food, drink and music, the smiling owner is known for his colorful outfits, often complete with cape.
Roger Stolle, Moderator, Part Two
Roger Stolle owns Cat Head Delta Blues & Folk Art store in Clarksdale, Mississippi — which just celebrated 13 years. He is a Blues Music Magazine columnist, Juke Joint Festival co-founder, Hidden History of Mississippi Blues author, former Sirius-XM Bluesville contributor, and co-producer of blues films like Hard Times, M for Mississippi and We Juke Up in Here. He is co-creator of the forthcoming Moonshine & Mojo Hands web series and a recipient of both Keeping The Blues Alive and Blues Music Awards. An authority on Delta blues and tourism, he has been quoted by The New York Times, The Economist and Travel+Leisure. His web site is www.cathead.biz.