This is the latest installment of our weekly series The Language of the Blues, in which author and rock musician Debra Devi explores the meaning of a word or phrase found in the blues.
Grab a signed copy of Devi's entertaining & award-winning glossary The Language of the Blues: From Alcorub to Zuzu (Foreword by Dr. John) at Bluescentric.com. Also available as an eBook.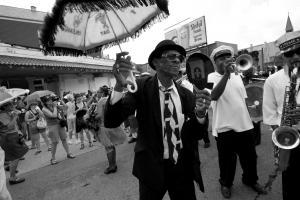 Second line is the famously funky marching groove that musicians call "the big four," for its drum accent on every four count. Second line originated in New Orleans, where "the second line" refers to the people dancing behind the band after a New Orleans funeral.
"When we have funerals in New Orleans," Dr. John told me, "the people marchin' in respect to the graveyard- that is the second line. When they put the body down and the band strikes up a lively tune to bring the people home, the dance the people are doing behind the band- that is also the second line. The people that follows the funeral is the second line. It grew to mean the people that follows the parade, the band that follows the float. But when we put people down, we have a good time about it."
The second line beat helped R&B evolve into rock 'n' roll, according to Dr. John: "There was a string of drummers that came out from New Orleans, starting with Paul Baldwin, who played Dixieland with a fonky second-line beat. His nephew, Earl Palmer–maybe they weren't kin but I like to think of him as Paul's nephew, spiritually- started putting it in records. When Earl started putting it in Little Richard's recordings it became rock 'n' roll. Before Little Richard came to New Orleans to cut 'Tutti Frutti,' his records sounded like everyone else, but after that everything changed. With one record."
Second line drumming is a polyrhythmic shuffle, as opposed to the two-four backbeat typical of straight blues. "It's more or less a one and three beat, if you're counting," explained Herman "Roscoe" Ernest, III, the legendary drummer who put the swing in Lady Marmalade's skirts for LaBelle and the shuffle on Lee Dorsey's Night People album. "I would tell [a drummer] to think polyrhythms in a marching cadence with more of a shuffle, with a press roll.
"The Dixieland I came up on was more or less a raw groove," Ernest added. "People used to play on metal or a box with this kind of shuffle rhythm. It was done so manually back then that people looked at it as a Dixieland jazz thing, but it's not just that. If you listen to it real hard, you can hear shuffles–single shuffles, double shuffles–you can hear swing. It's all coming off the snare drum. And, if you accent real hard on the four, that is considered a New Orleans groove.
"It's hard to explain to people not from New Orleans," added saxophonist Red Tyler. "We were raised with a second line kind of beat. At funerals and social occasions, we would dance to this music. What happened was that we always heard that beat in the back of our minds. That's what it is about New Orleans music. We're always tying in from that second line feeling, even when we're not playing it….Even playing bebop, New Orleans drummers have that feel."
Howard "Smiley" Ricks, Dr. John's percussionist and a Mardi Gras Indian chief, captures the essence of second line when he said, "When I was a little boy, you hear that big four and you run out the door. You leave the pots and pans and everything, the second line was running down the street. Everybody just having fun. If you lived in the neighborhood with all that going, you would catch onto it with ease. That's an exciting beat. I heard that, I could leave everything. I'd be shooting marbles or whatever and just leave the game."
All interview quotes from The Language of the Blues
Pick up a signed copy of The Language of the Blues today!
Songs
:
For fine examples of second-line drumming, listen to music by The Meters, Dirty Dozen Brass Band, The Wild Magnolias and The Neville Brothers
Video:
ReBirth Brass Band – Treme Sidewalk Steppers Parade