PledgeMusic, the direct-to-fan music platform, works much like a crowd funding site to help launch new albums and projects from various artists. This time, they're launching a limited edition release of Skydog: The Duane Allman Retrospective, on vinyl.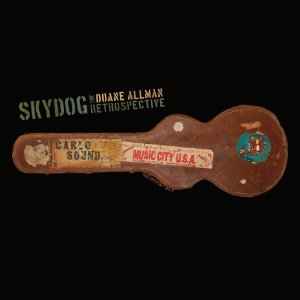 The acclaimed 2013 CD box set, Skydog: The Duane Allman Retrospective, was a critical and commercial success, chronicling the full breadth and depth of Allman's music. This new, highly collectible edition will be a limited run of 1000 only available to pre-order on PledgeMusic. Each individually-numbered box set includes 14 LPs, pressed on audiophile-quality, 180-gram vinyl, plus a 56-page book and features rare and new, never-before seen photos, with essays by journalist Scott Schinder, and Duane's daughter, Galadrielle.
Produced by Galadrielle Allman and esteemed reissue producer Bill Levenson, Skydog features all 129 tracks from the original CD edition of the retrospective, including many classic Allman Brothers songs, plus a collector's cache of rare singles and long out-of-print album tracks. The songs range from Duane's early recordings (with Gregg) in bands such as The Escorts, Allman Joys and Hour Glass; to his studio work with Aretha Franklin, Wilson Pickett, Boz Scaggs and Delaney & Bonnie; to a live jam session with the Grateful Dead.