On November 12th, Neil Young will celebrate his 71st birthday. In recognition of the twice inducted Rock and Roll Hall of Famer, we offer 10 things you may not know about Joe Canuck, himself.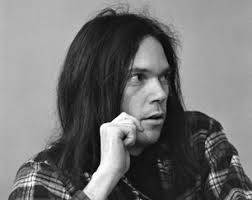 1. Neil Percival Young was born on November 12th, 1945 in Toronto, Ontario, Canada. Although he moved to the United States in the 1960s and got a green card in 1970, he has never renounced his Canadian citizenship.
2. At the age of 7, he contracted polio. It was during the last outbreak of the disease in Ontario and almost cost him his life. On a side note, fellow Canadian artist, and Young collaborator, Joni Mitchell, also caught the virus during the same outbreak. The family took him to Florida to recuperate, and his most vivid memory was of all the brand new American cars he saw during their travels. This instigated a life-long love of automobiles, and he has owned some very interesting ones. These have included a 1948 Buick Roadmaster hearse, which he named Mortimer, a 1973 Eagle tour bus named Pocahontas, a 1949 Cadillac named Hank, a 1959 Lincoln Continental named LincVolt, which has been converted to run on alternative energy, and the 1953 Pontiac hearse, Mort II, which brought him, illegally, across the border, and on to California, in the 1960s.
3. His first instrument was a cheap, plastic, ukulele, which he received as a Christmas present in 1958. From that instrument he progressed to a better ukulele, then a banjo ukulele, and finally a baritone ukulele, before ever owning a guitar.
4. Although his first gigging was done as a member of the Jades, and his first recording with the Squires, he was touring Canadian folk clubs as a solo artist in 1965. That is when he first met Mitchell, wrote the song, "Sugar Mountain," and finally joined a rhythm and blues band called the Mynah Birds in 1966. At one point, the Mynah Birds was made up of Young, future Buffalo Springfield bassist, Bruce Palmer, future Steppenwolf members, Goldy McJohn and Nick St. Nicholas, and front man, and future funk master, Rick James. James and Young shared a Toronto apartment, and the band had signed a deal with Motown Records. Unfortunately, just as they were set to enter the studio, James was arrested for being AWOL from the US Navy. It seems he had joined up to avoid the draft, and then deserted to Toronto.
5. It would seem that Young has been prone to illness. In 1966, after Buffalo Springfield was formed during a chance meeting on Sunset Boulevard, he developed epilepsy, often having seizures while performing with the group on stage. A few years later, suffering from another ailment, he wrote three of his most memorable songs. "Down by the River," "Cowgirl in the Sand," and "Cinnamon Girl," were all written under the influence of a 103 degree fever. In 2005, he was diagnosed with a brain aneurysm. Although initially treated successfully, his femoral artery, which the doctors used to reach the aneurysm, began to bleed. The complication led to canceling his appearance at the Juno Awards that year, but within a few months he was back on tour.
6. The group, Crosby, Stills, Nash & Young, played their second gig, ever, at Woodstock in 1969. He was actually the second choice of the group, joining after Steve Winwood turned them down to stay with Blind Faith. In 1970, Young wrote the CSNY song, "Ohio," after the Kent State killings. 24 years later, Young was offered $1,000,000 to headline Woodstock '94, but declined, saying the event had become too commercial.
7. Through his many hits, and long career, Young's 1971 song, "Heart of Gold," is the only one of his works to hit #1 on the charts, both in Canada and the US. The song was recorded for the Harvest album, featuring James Taylor and Linda Ronstadt on backing vocals. It was recorded as an acoustic piece, because at the time, Young was recovering from a back injury, and couldn't stand with his electric guitar, Old Black, for any period of time.
8. Young is known as the "Godfather of Grunge," due to his use of feedback and distortion. In 1991, he released the album, Arc, which is composed of feedback noise from various live shows. Lyrics from his song, "My My, Hey Hey (Out of the Blue)," were included in the suicide note of Kurt Cobain. In 1995, he recorded a collaborative album with the band, Pearl Jam, and later that year, Eddie Vetter inducted Young into the Rock and Roll Hall of Fame. He was inducted a second time, in 1997, as a member of Buffalo Springfield.
9. Outside of music, Young is a well known political activist. However, he also founded The Bridge School, with former wife, Pegi Young. It is a facility for children with severe speech and physical impairments. Young, himself, has two sons with cerebral palsy and a daughter with epilepsy. In 1985, he co-founded Farm Aid with Willie Nelson and John Mellencamp. Also a lover of model trains, he is part owner of the Lionel company. He helped develop more authentic train sounds and designed special remote controls that his sons could operate without using their hands. It was Young who saved the company from bankruptcy in 2008.
10. In the 47 years since he wrote the song, and included it on the album, Everybody Knows This Is Nowhere, Young has never revealed who the real "Cinnamon Girl" is.