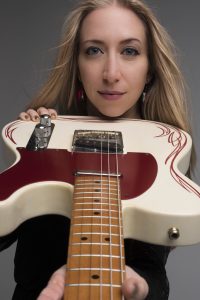 NASHVILLE, TN – Nashville-based roots singer/guitarist, Beth Garner, has announced a February 24th, 2017 release date for her new CD, Snake Farm, on The Music of Nashville imprint, via CEN/RED Distribution, a division of Sony Music. Snake Farm features mostly original songs written or co-written by Garner, with the exception of the title track, authored by Texas country legend Ray Wylie Hubbard.
Garner's music on the new album showcases her soulful singing, with its roots firmly in blues, gospel and soul with rock 'n roll flourishes, as well as her scintillating axe work that alternately smokes and sizzles on both standard, and slide guitar. Recorded mostly live at Slack Key Studios in Woodbine, Tennessee, Snake Farm was produced by Garner and Randy Kohrs. The backing band features Rory Hoffman (sax, keyboards and rhythm guitar), Wes Little (drums), Steve Forrest (bass) and Angela Primm and Gale Mayes (background vocals).
A Texas native, Garner spent a number of years playing in the Austin music scene before relocating to Algood, Tennessee in 2007, not originally to play music, but, "to build a blimp for the Department of Defense,"  she says. "I worked for my uncle in a warehouse with bad heating. In March, 2007, I began a three-month US tour with Russian band The Red Elvises, where we played small sold-out venues from coast to coast. I gained a lot of fans and learned about our great country from the back of a van full of Russians." After the tour, Garner returned to Tennessee and started playing for tips in the biker bars that dotted the small byways around the small town of Cookeville.
Garner soon picked up a gig with local icon, Shelly Bush and Broadband, solely on the fact she was a female lead guitar picker and didn't have that much hard-core country experience. From there, she started playing the Full Moon Saloon in various country bands, eventually getting her own shift, gaining musical chops and showmanship and also picking up the slide guitar.
In 2015, Garner decided to get back into the blues. She frequented Carol Ann's, a famous club in Nashville that keeps the blues and history of soul music in that town alive. It was there she was inspired to return to the blues, but this time Beth had paid her dues. Now it was time to release some new material. Fortunately, she had a true fan that wanted to make it happen, so in October, 2015, she recorded seven songs mostly live in a little home studio basement that is painted purple, Slack Key Studios. "With master musician and engineer, Randy Kohrs, at the helm, we co-produced these songs," she says. "All with these rules: it has to be all heart and soul, no more than three or four chords, only A and B sections, and long guitar solos. I wanted to keep the album in line for the purists, but my age and experience let me put my own stamp on what the blues is to me. The blues to me is summed up in Snake Farm. I can't describe it. You just have to listen to it, and hopefully feel something."