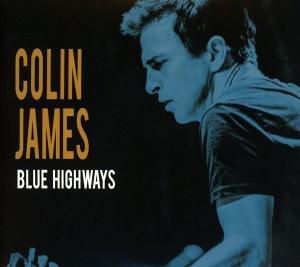 Head shaking, ripping classic blues describe this collection of cover tunes by Colin James. Released October 14th on True North Records, and distributed in the US by E1 Entertainment, Blue Highways is the 18th album by the iconic Canadian artist.
James is a highly decorated musician. In march of 2013, he was inducted into the Canadian Music Industry Hall of Fame. He now has 17 Maple Leaf and 6 Juno awards to his credit. Recently, James has also been named as an inductee into the 2016 Western Canadian Music Hall of Fame. With Blue Highways, the multi- award winning Canadian has hit the ground running with a list of his favorites, doing them justice.
Blue Highway is co-produced by James and Dave Mescaros. The group recorded in Vancouver's Warehouse Studios in British Columbia, Canada. The supporting cast includes Geoff Hicks (drums), Steve Pelletier (bass), Jesse O'Brien (piano), and Craig Northey (rhythm guitar). The body of work is a tribute to Colin's all-time favorite blues artists. Freddy King, Jr. Wells, Buddy Guy, Howlin Wolf, and Robert Johnson are just a few.
We found "Going Down," originally written by Don Nix, a worthy rendition. Jeff Beck, Deep Purple, J.J. Cale, Sam Kinison, Stevie Ray Vaughan, Joe  Satriani, The Who, Led Zeppelin, Sammy Hagar, and Joe Bonamassa are all among an impressive list of all-time great artists that thought enough of this rocking blues staple to produce their own versions. It was also covered by Freddy King in 1971 in collaboration the late great Leon Russell who recently passed.
"Boogie Funk" is a racy southern Texas blues piece with a little Gibbons/Caldwell flare. We enjoyed the harmonica play which contributes nicely here, and elsewhere on the album.
James slows it down a bit with "Gypsy Woman," "Hoodoo Blues Man," and "Don't miss your Water." Throughout the album, James showcases his versatility with smooth slide guitar, finger picking, biting leads, and grungy power chords. All are executed with the finesse and style that gives him such a great sound.
This release is sure to please any blues lover east, west, north, or south of the border. We give it a solid two thumbs up.
Blues Highway by Colin James
Label: True North Records
Tracks: 13 tracks for a total of
Running time: Just under 43 minutes