This is the latest installment of our weekly series The Language of the Blues, in which author and rock musician Debra Devi explores the meaning of a word or phrase found in the blues.
Grab a signed copy of Devi's award-winning glossary The Language of the Blues: From Alcorub to Zuzu (Foreword by Dr. John) at Bluescentric.com. Also available as an eBook.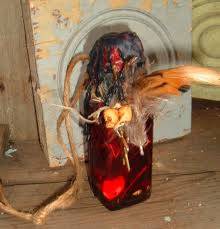 A toby is a good-luck charm or amulet. In Flash of the Spirit, art historian Robert Farris Thompson speculated that the word toby was probably derived from "the tobe charms of Kongo: earth from a grave plus palm wine to bring luck."
In "Spider's Nest Blues" in 1930, Hatti Hart–best known for "I Let My Daddy Do That," sings with the Memphis Jug Band about a "jet black spider" that has fallen in her tea. To counteract this sign of bad luck, she resolves:
I'm goin to New Orleans to get this toby fixed of mine
I am havin' trouble, trouble; I can't keep from cryin'
Unlike a mojo, which is usually in a flannel or leather bag, a toby is kept in a bottle or metal container. In an article called "Charms and Charm-Medicines" published in Catholic World magazine in 1886, Mrs. L.D. Morgan recounted that Maryland police had found a toby on the person of an African American man arrested for wife beating. This was "a spherical metal case about the size of a goose-egg, covered first with yellow, then with black leather. One end being open, the contents were seen to be composed, to all appearance, of hair, quicksilver, pins, and a greasy substance."
Pick up a signed copy of The Language of the Blues today!
Songs:
"Cut Out Blues"- Peetie Wheatstraw
"Spider's Nest Blues"- Hatti Hart with the Memphis Jug Band
Video:
Hatti Hart with the Memphis Jug Band – "Spider's Nest Blues"
https://youtu.be/i247aXi9V6Y