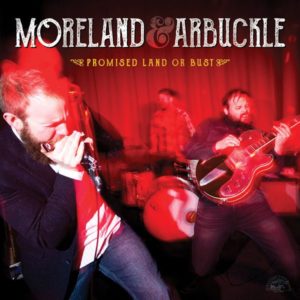 Alligator Records recording artists Moreland & Arbuckle, have decided to amicably dissolve the band. Their latest album, Promised Land Or Bust, is in contention for Rock Blues Album Of The Year at the BMAs.  They will play the remaining booked dates on their tour calendar. Guitarist Aaron Moreland plans to spend more time at home with his family. Vocalist, harmonica player, and songwriter, Dustin Arbuckle, plans to continue making music and touring. Drummer Kendall Newby, who joined the band in 2012, also intends to keep playing professionally.
Over the course of their 15-year career, the Wichita, Kansas trio has played hundreds of shows, performing in the United States, Canada, across Europe and in Australia, Iraq and Kuwait. They've shared stages with ZZ Top, George Thorogood, Buddy Guy, Robert Cray and Los Lonely Boys, to name a few.
According to Moreland, "I've had extraordinary opportunities playing music my entire life. The best shows have been the highest of highs. After 15 years on the road, it's time for me to focus on what's most important—my family."
"The last 15 years have been an incredible ride," says Arbuckle. "I especially want to thank Aaron for being my partner in this endeavor. Creating and playing music with him has been one of the greatest parts of my life. I wish him nothing but happiness in the future. Playing and touring afforded us the opportunity to have so many great experiences and meet even more wonderful people. I want to express my tremendous gratitude to all the friends and fans who have supported us over the years. I plan to continue my career as a touring musician, so hopefully I will see all of them again in the future. In addition, I have to give my most heartfelt thanks to everyone who has been a part of this band and to all those who have helped build it. It's been great and I will always cherish the memories of the good times we've had."
Inspired by raw Delta, and Mississippi Hill Country blues, Moreland & Arbuckle brought fierce electric fury and unrelenting punk rock energy to their original songs. With each of their six releases, the band grew musically and lyrically, creating a signature sound while earning a large, and loyal, worldwide fan base. Their famous raw and raucous live shows were played with wild abandon.
From their 2005 self-released Caney Valley Blues, to 2016's Promised Land Or Bust, Moreland & Arbuckle grew from a fiery, crowd-pleasing duo, to a genre-smashing three-piece band. Together, Moreland's simultaneous bass, rhythm, and lead guitar work combined with Arbuckle's emotionally charged harmonica and edgy vocals, driven by Newby's propulsive drumming, created a sound forceful enough to grab a listener's attention and nuanced enough to hold it.
Remaining concert dates for the band include the Lost Hollow Music Fest in Belmont, North Carolina (w/Jarekus Singleton) on May 20th; Doheny Blues Festival, Dana Point, California on May 21st; and the Big Bull Falls Bluesfest, Wausau, Wisconsin, on August 19th. Check their website for a complete list.