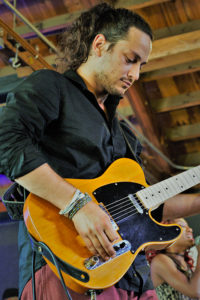 Southern Avenue, from Memphis, TN, was one of the acts to perform on Saturday nights Smokin' In Steele BBQ and Blues Festival in Owatonna, MN. Southern Avenue represented the birthplace of the Blues and, as always, they did not disappoint. Their energy and upscale beats make your feet tap, and your hips sway. Guitar wizard, Ori Naftaly, and his powerful band wowed the crowd with their mastery of different Blues styles. Mega-talented, Tierinii Jackson brought the audience to their feet with her soul drenched powerhouse of a voice.
Southern Avenue blew the roof off with their brand of soulful Blues and delivered it Memphis style.  As Ori Naftaly commented, "Every time I play for John and the Minnesota Blues Society, I have an amazing time. The team up there always takes care of us, and we can't wait to come back."
Besides great music, food and entertainment Smokin' In Steele flat out encompassed a good time all day and all night and it will be a place that I come back and visit…it felt like home. John "Blues" Hammer gives you no choice but to feel at home. He strolls the grounds with a gigantic smile on his face thanking people for being there. He gets up on stage and spreads his love to everyone and is as genuine as it gets. John is a good man, and with the addition to world-class performing Blues artists, it just adds up to a phenomenal time.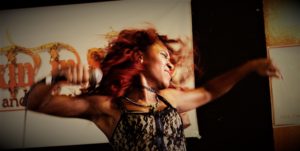 Tierinii Jackson stated after the show, "This place has such great energy and the kids smiles were the icing on the cake!" Other rock solid performers at the festival Saturday night were The Norman Jackson Band (IBC finalist with Southern Avenue) and Mississippi Bigfoot (Memphis, TN).
As Southern Avenue hits the road to Texas, they will be performing with The North Mississippi Allstars this Tuesday, June 6th in Houston, TX and Wednesday night, June 7th in Dallas, TX. This will be an epic showcase of Blues and Soul merging with good friends, as Luther Dickinson recorded on Southern Avenue's STAX debut album in 2017. Rounding off the week, they will be heading to Lander Brewfest in Wyoming on Friday followed by the Greeley Blues Jam in Colorado on Saturday.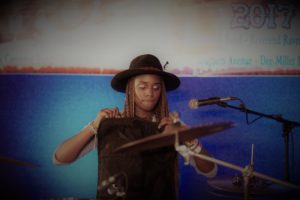 The last time the band played in CO was at Blues From The Top, and Southern Avenue is dedicating their set at the Greeley Blues Jam to John Catt.  We are in for a real treat this week as this band's lively and unique blend of blues and soul is a decade or more ahead of its time.
The band sinks deep into your soul with its originality, casting a wide net to all audiences with their silky and smooth tones and rhythmic foundation while maintaining its deep well of influences and free form jam, all of which is what makes Southern Avenue one of the hottest bands out there on the festival circuit.