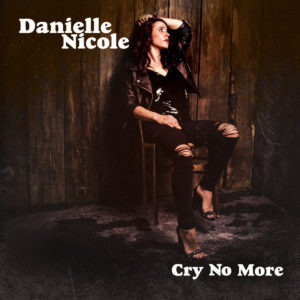 Danielle Nicole has always possessed a powerful and soulful voice. Whether belting out blues stompers or sweltering ballads, her authoritative vocals leave listeners breathless. Cry No More, her newest offering scheduled for release on February 23rd, sees Danielle Nicole evolve even further.
Since the age of 12 Danielle Nicole has proven her status time and again. Her family band, Trampled Under Foot, fast became a headlining act because due to their talent a lot of headliners couldn't follow them. After the band's break-up, Danielle's debut studio album, Wolf Den, proved her chops as both songstress and bassist. Cry No More goes even deeper, showcasing her talents as a songwriter as well.
Nine of the 14 tracks on Cry No More were written by Danielle Nicole, with five of those co-written by drummer/producer Tony Braunagel (Etta James, Bonnie Raitt, Taj Mahal). "I wanted to open up more about myself, and I think it shows in the songs," Danielle said. "I thought really hard about the stories I wanted to tell in these songs. I really dug into my personal experience, and worked to be more open and expose more of myself than I have in the past."
The album kicks off with the blues rockin' "Crawl." With brother Nick Schnebelen on guitar, "Crawl" is a throwback to her days with Trampled Under Foot. Schnebelen isn't the only guest artist on the album. Most of the guitar is handled by Johnnie Lee Schell (who also engineered the sessions). Other famed friends including Kenny Wayne Shepherd, Luther Dickinson, Walter Trout, Sonny Landreth, and Danielle's touring guitarist Brandon Miller add their respective guitar flourishes to Cry No More.
One of the few covers is the song "Hot Spell." Technically a cover song, Danielle is the first to record it. "Hot Spell" was hand-delivered to her by the song's composer, Bill Withers, during a surprise visit to her recording session. "There was a section on the demo where Bill's scatting where the guitar solo would be," Danielle recalled. "We asked him to do that on my version, but he's retired, so he respectfully declined to sing on it. So I sang the scat line and harmonized to it, in his honor. He dug it!" We dig it too.
On "Burnin' For You," Trout lays down a greasy solo and pinpoint accurate licks. The title track has more of the 70s soul vibe that "Hot Spell" delivers. "Poison the Well," is hauntingly alluring, as is "I'm Going Home." On each track Danielle brings her full force vocals which can switch from crystal clear crooning to an ominous growl at the drop of a note.
Our choice for stand-out track is the song "Bobby." An acoustic Americana song written about her late father, it's as far from what we've come to expect as a hawk from the moon. "Bobby" not only further declares her skills as a songwriter, but teaches us all a little lesson in the dangers of pigeon-holing an artist.
From the soulful "How Come U Don't Call Me," to the jazz-infused "Baby Eyes," to the Hill Country blues of "Lord I Just Can't Keep From Cryin'," Danielle flawlessly switches gears. Far from a one-trick pony, Danielle Nicole bends genres as effortlessly as she does her bass strings. A full hour of musical majesty, Cry No More should be on every music lover's wish list.
Artist: Danielle Nicole
Title: Cry No More
Label: Concord Records
Release Date: February 23rd, 2018
Running Time: 1:00:52
*Feature Photo: Jacob Blickenstaff