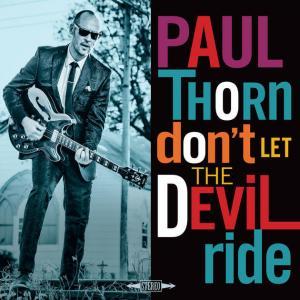 It might be naive to think you can detect authentic music without being familiar with the particular genre. Paul Thorn's Don't Let the Devil Ride, is an incredible gospel and gospel-influenced album that sounds like the real deal: From its production, which sounds like it was recorded inside an old hot wooden church stuffed full of sinning parishioners, to the songs, which make the listener feel like they've stumbled into perhaps the South's most exciting church service. It's all the more amazing given that Thorn isn't a gospel artist.
The album kills because it's intense without being noodle-y. Every song sounds like great musicians trying–somewhat unsuccessfully–to hide just how talented they are. As is often the case with gospel, much of this comes from the organ, which propels many of the songs here. The album kicks off with "Come On Let's Go," which is propelled by that organ, as mentioned earlier. An infectious hand-clap keeps the beat, with horns popping in and out of gospel-tinged background vocals. The song builds to a manic climax before collapsing into a swirl of organ. Truthfully, if Thorn had ended the album on that first song, everyone would have felt like they got their money's worth.
But luckily, Thorn keeps going. "You Got to Move" is organ pushing against country guitars and piano, with a sound straight out of a cavernous church hall. "He's a Battle Axe" picks up the country vibe with mandolin and horns, giving the track a strong Band vibe. "Soon I Will Be Done" is straight-up gospel, complete with a gospel choir, which makes sense since it's a standard. The organ once again takes the lead, this time dancing like it's been possessed by the holy spirit.
The album's most profound moment comes on Thorn's cover of the O'Jay's "Love Train." Using piano and organ, he elevates a 1970s soul track, injecting it with a seriousness and earnestness that unlocks the beauty and seriousness of the song. He manages to find and reveal a beauty most listeners never suspected existed in the original. It's truly something to behold.
Is this real gospel? It certainly feels real. It's not just the music. Thorn's voice is powerful and sincere. He believes it's real and that makes it feel authentic to the listener. Thorn came up in his father's Pentecostal church and the music of that time seems seared into his essence. Don't Let the Devil Ride isn't someone playing with a genre. Instead, Paul Thorn is sharing and exploring the music that shaped him as an artist, and it makes for one of the best albums of 2018 so far.
Don't Let the Devil Ride – Paul Thorn
Tracks:    14
Label:      Perpetual Obscurity
Released: March 28th, 2018
*Featured image photo by Lee Harrelson