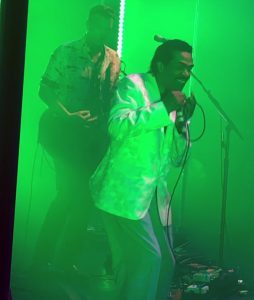 Friday night 84 year old Bobby Rush joined Queens of the Stone Age on stage. The Grammy Award and twelve time BMA winning performer was invited onstage by lead guitarist Josh Homme as the band was playing to the crowd at the Saenger Theater in New Orleans.
Homme introduced Rush saying, "I'd like to welcome special bad-ass motherf**ker, Mr. Bobby Rush!" The band then launched into "Burn da Witch," with Rush answering the call of Homme's guitar on his harmonica. Being Bobby Rush though, he was jumping and dancing even as he worked his harp and the audience ate it up!
The band followed up with "Make It Wit Chu" as once again Homme and Rush played off each other. Homme and the rest of the band were clearly enjoying Rush as he danced and played, acknowledging the audience at every turn.
In a post on Rush's Facebook page he said, "I love those guys. It was great to play with them and hang out."
You can see more of Bobby Rush on tour.
You can catch up with Queens of the Stone Age here.
*Video Courtesy of 72 Music Management
*Featured image photo by Erika Goldring