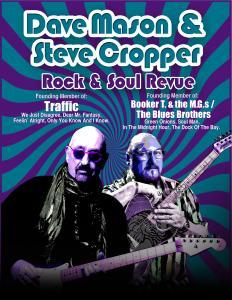 "I've been doing 'Dave' for 40 to 50 years. It's fun to do some songs I grew up with, so it'll be a big mix of stuff, and it should be fairly cool," says Dave Mason about his first ever summer team-up with Steve Cropper, two titans of music on a tour still being booked but including a headlining appearance at the King Biscuit Blues Festival Saturday, October 6th.
Dave Mason had founded two bands by the time he was 15. He's a founding member of Traffic, whose debut Mr. Fantasy LP in 1967 changed the paradigm of the British Invasion.  He's written more than 100 songs including his signature hit "Feelin' Alright."  He performed on The Rolling Stones' Beggars' Banquet, George Harrison's All Things Must Pass, Paul McCartney's Listen To What The Man Said and Jimi Hendrix's Electric Ladyland.
The AllMusic Guide calls Steve Cropper "probably the best-known soul guitarist in the world." A member of Booker T and the MG's, the Stax Records house band during the label's most influential period, he co-wrote Otis Redding's "Dock of The Bay" and backed artists such as Otis Redding, Carla Thomas, Wilson Pickett, Sam & Dave and Rufus Thomas. He was the lead guitarist in both Blues Brothers movies and in 1996, England's Mojo Magazine rated him number two guitarist of all-time (Jimi Hendrix was number one).
Early in April, Mason and I talked about the summer tour.
Have you guys played together before?
Uh, actually, not really, no. Ha, ha, ha.
Have you done any of the shows yet?
Oh, no. We haven't done anything yet. We've gotta rehearse this show in May.
Who did it come about? Whose idea was it?
It was mine. We were trying to put something together with redoing Traffic with the Traffic Jam with myself, Steve (Cropper), Michael McDonald and Steve Winwood, but basically we couldn't wait around for the other two, so Steve and I decided we'd go out and start doing some stuff together. That's really how it started.
Do you know yet how the set is going to go because it's being booked as the Dave Mason and Steve Cropper Rock and Soul Revue, and it's the headlining act on Saturday, October 6 at King Biscuit Blues Festival?
Yeah. It's a little rockin' soul review.
A little? I can't wait to hear this. Are you guys going to play together or apart or both?
Mostly together, but there'll be some things he'll probably step off, and I will. "Green Onions" or something like that I won't be up there, but we're doing some of the material he co-wrote like "Dock of The Bay" and things like "637-5789" I'm going to do which I've been wanting to do for years. I'm going to step back and throw some songs out that I grew up with, too. Maybe put four of my own songs in there. But we have a really great girl singer on the band that I've had for a little bit.
Are you talking about Gretchen (Rhodes)?
Yeah, yeah, yeah.
Is it going to be the same band that you've got on your website because that's a kick-ass band. These guys have been around.
Yeah, Steve is basically injecting himself into what I already have going on. It's the same band. I'm planning on picking some things I grew up with. I'm thinking of doing an Everly Brothers song. I might do "The Wanderer," a little Eddie Cochran, and I've been wanting to do this for years, so I want to do "Born Under A Bad Sign."
What's it like to be playing with a guy like Steve Cropper? I mean you've played with Hendrix and The Stones and Delanie and Bonnie and Traffic and all these great people. Do you still get excited?
Yeah, I mean I love playing. I can't say that I'm thrilled about traveling anymore, but I love playing and Booker T. and The MGs. God! The records that band played on are just – the list is endless. I mean it pretty much is the entire Stax catalog. So, that's what I was listening to – we were all listening to when we (in Traffic) were kids: Jim Capaldi, Steve Winwood, I mean, we were all huge fans of that stuff in fact, when we were 18, 19 years old. So, to be playing with him and doing stuff together to me is much fun. I hope that it translates over to the audience, and they get it.

Everybody in the business or a musician worth a damn knows who Steve Cropper is and knows his history. The problem, on the other hand, (the average person) is really not that aware of him unless you put it in the context of Booker T. and The MGs or the Blues Brothers. In a way, it's a great way to have him be a little more exposed in terms of what he has actually written, played on or his career. So, to me it's more of a personal kind of thing. I hope it translates to the audience out there. I hope there will be some younger people that will discover things.
It can't miss, Dave. I interviewed Steve Cropper last year, and I said, "Well, how much time do you have?" And he said, "Well, you know, whatever you need." And then I said, "I'm gonna throw a whole bunch of questions at ya because I know we don't have a lot of time." He said, "Well, we'll never get past the first question because I love to talk." He was the friendliest guy in the world.
(Chuckle)
And you're like that, too. I'm sure it will translate well. I think the chemistry between you guys will be a lot better than you ever had in Traffic. Let's put it that way.
Oh, no. We've been hangin' out a little bit just going over all this stuff. Yeah, he's just a down boy, you know? And it's great. I mean I'm as good as I'm ever going to be at this point doing what I do. Of course, I've done innumerable things in my life like most people in their life, but let's put it this way. I know what I don't like, and I know what I don't want. It makes life a lot easier.
How do you go about picking the people that are in a band like that? You've said to me that it was more important how the people get along, and the chemistry between you and Steve. Is it the same with your band? Is that as important as how well they play?
Yeah. (Guitarist and vocalist) John Sambataro has played with me on and off for 35 years. (Drummer) Alvino Bennett's been with me for over 15 years, and (keyboardist/vocalist) Tony Patler's been there eight or nine years. (Vocalist) Gretchen (Rhodes) is the most recent addition. She was just here for the last tour we just did.  She's only been with us not even six months.
So, is she going to do all the vocals?
No, no, no. A lot of it is background vocals, backup vocals, and then there's songs we'll feature her on, and I'll probably have Tony sing a lot of the stuff that Cropper wrote because he has a really good R& B voice.
What are your favorite Cropper songs that he's written and/or that he's played on? He's on every Stax/Volt song that was ever put out, wasn't he?
Well, "Dock of The Bay" of course he co-wrote with Otis Redding and the other ones I mentioned, "634-5789," and I can't even remember all the stuff he's actually written, and songs like (Albert King's) "Born Under A Bad Sign" and early Al Green stuff. Like I said, they're the band on pretty much every Stax record that ever came out. The list is endless.

I hope we get received really well. I went out in that Traffic Jam thing for two or three years, and I thought I'd go out and do two or three dates, and it went on for two or three years. I didn't really know how it would work. So, this is a chance to do something a little bit different, and for me it's an opportunity to do some material that I would never normally do.