"The blues is alive and well." So sayeth Buddy Guy. Elder statesmen like Guy keep the blues heart beating. Meanwhile, young guns coming up through the blues ranks are why there's fresh breath in the genre. Enter Ethan Lake.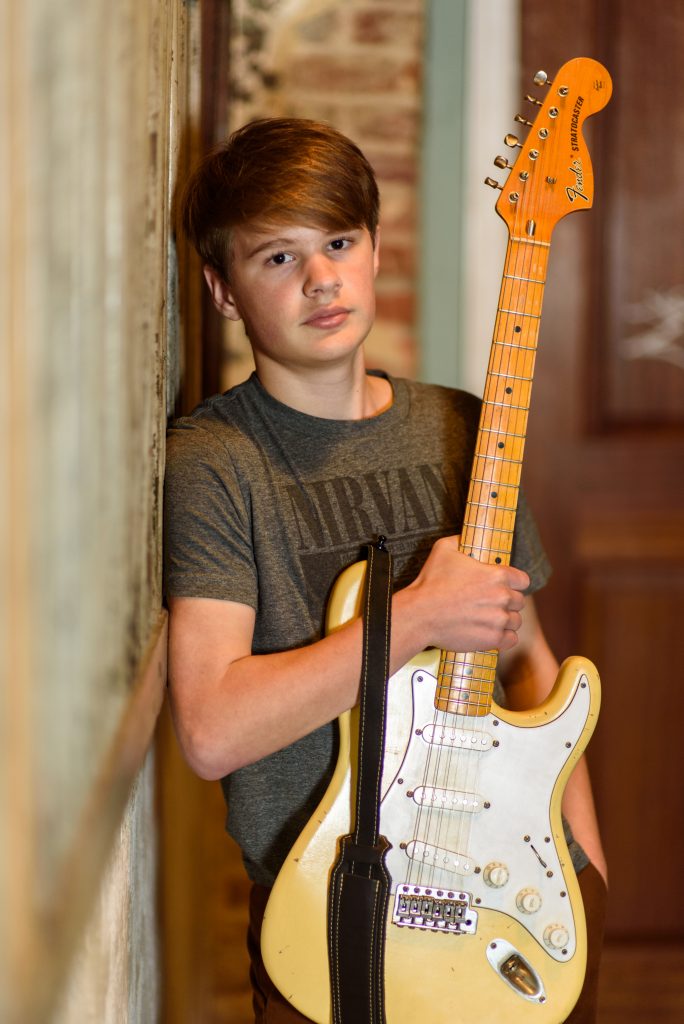 Lake is the new kid in town. A 16-year-old guitarist/singer hailing from Baltimore who chose the blues path, and he's shaking things up. Like many of a certain age, Lake was introduced to the blues via bands like the Rolling Stones and Led Zeppelin. All on his own, he began researching those bands' influences and found the Chicago sound. From there his investigation led him to the music of the Delta, Memphis, Austin, and other blues points on the map.
We were curious why a kid from Baltimore would take such an interest in the blues, so we gave him a call and asked. "My dad started introducing me to old rock and roll stuff like the Stones," Lake told us. "Then it just kind of took off from there. I started getting into older music like the blues, and just stuck with it."
Ethan's dad, Todd Lake, supports his son's talent and career in a huge way. Not only is he a doting father, but also the teen's manager, roadie, publicist, and biggest fan. "I may have introduced it to him," the elder Lake said. "I always liked the history of it, but never really listened. Ethan, completely on his own, started really deep-diving into the old, original stuff. I'm blown away by how he went there, stayed there, and is completely loyal to it. What's more is he really enjoys it."
Surprising for an average high schooler? Absolutely. It's a rare occurrence in this century that a teenager with a guitar would get so turned on by the old masters. "I'm definitely into Chicago and Delta blues," Ethan says. "What really influenced me is [the music of] Howlin' Wolf, Clapton, Robert Johnson, all those people. Jimi Hendrix is definitely a big one too, but he had his own style."
Those may have been his influences, but as a guitarist himself, Lake has developed a group of favorite artists who he enjoys. "I don't have any one favorite guitarist," he began. "My fantasy team would be Robert Johnson, Howlin' Wolf, Stevie Ray Vaughan, Muddy Waters, Bo Diddley, Jimi Hendrix, and especially Clapton."
Wait a second. Did he just say Bo Diddley? How did he happen upon The Originator? Simple answer, the internet. "What I started doing when I was trying to find artists, is I would go to an artist I knew and enjoyed, then I would scroll down until I reached their related artists," Ethan says. "Then I would just click on the music of different artists until I found the ones I liked." Todd also gives credit to music services like Spotify, on which one can find a certain genre of music, and hear a variety of artists in that category.
Lake got his first guitar at the age of 12. He started taking lessons and then participated in "School of Rock" type programs. Once he found the blues however, his natural talent took over. The youngster's skills quickly advanced beyond those of the other students, and in a genre that the others weren't as interested in. His next step was to begin participating in local blues jam sessions.
Ethan is fearless, and willing to climb on stage with anyone, and in any place that will let him play. Those spots can be hard to find due to his age, but some venues have welcomed him with open arms, and ears. His favorite place to play is at Baltimore's Cat's Eye Pub. "I played my first blues jam there," Lake confided. "Plus it's a really nice place. The crowds get really into it. It's the blues bar to play at in Baltimore."
Lake is also very interested in jamming with nationally touring artists if the opportunity were to present itself. He has no qualms about getting on stage and playing with anyone out there. In fact, his plan next summer is to travel to Memphis, Austin, and the Deep Ellum neighborhood of Dallas, Texas to absorb the local music. Mostly however, he's anxious to find local jams in those areas to present his skills outside of B'more.
Lake has every intention of finishing high school and making blues music his career. One may ask, "yeah, but is he any good?" He's already drawn the attention of Beale Street guitarist/historian Robert Allen Parker, who will be welcoming the Lake family to Memphis next summer. The local musicians who jam with him continue to be impressed, and he's built quite the social media following.
Perhaps most impressive, is that Ethan Lake has already recorded a three-song EP. Showcasing his talent both vocally and on his favorite Strat, he covers Hendrix' "Little Wing," Gary Clark Jr.'s "Bright Lights," and that little ditty written by Roy Hawkins and Rick Darnell that BB King made famous, "The Thrill is Gone." Although he's yet to master King's trademark vibrato, Lake bends the blues with the best of them.
Lake's 15 Year Old Dreams was arranged and mixed by Stephen Antonelli of SongBuilders Studios Baltimore and mastered by John Webber at AIR Studios, London. Once you give it a listen, we think you'll agree that the answer to 'is he any good,' is yes. Yes, he is.
*Feature image Todd Lake